Take Precautions to Be Safe this Holiday Season
11/25/2016, 6 a.m.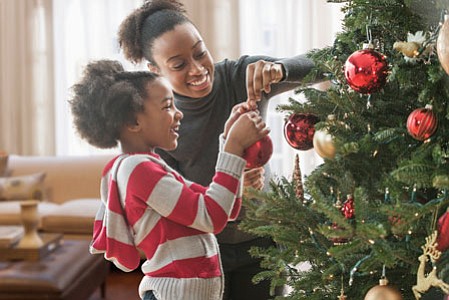 (FAMILY FEATURES) — Although good tidings and joy abound during the holiday season, this time of year can also pose a serious threat to your family, friends and home. The holidays bring an elevated risk for fires and burns, and many Americans may have a false sense of security.
A new survey conducted by Shriners Hospitals for Children® shows that most Americans know basic fire and burn safety tips but do not practice them in the home. Failure to implement safety precautions only adds to the danger.
A myriad of seasonal activities puts the action indoors, where families gather for cooking, decorating and other pursuits that may involve an open flame. Unfortunately, enjoying some of those treasured pastimes means the risk of house fires and burns increases drastically.
Many burn injuries and fire risks can be avoided by practicing a few simple safety measures. Shriners Hospitals has provided some practical steps to keep your home and family safe.
Seasonal Decor
Live Christmas trees need water daily. However, according to the survey, less than half of Americans perform the task. A dry tree can ignite in seconds, making tree fires one of the most dangerous types. Well-watered trees significantly reduce this risk. Set a reminder to add water daily to keep your tree safe and supple throughout the season.
Choosing the right place for your tree involves many variables. As you select the perfect vantage point, remember to keep trees away from heat sources like fireplaces, radiators, space heaters, candles or heat vents.
Consider using wickless or flameless candles. There are numerous inexpensive options that cast a warm, flickering glow so you can enjoy the ambiance of a lit candle without the risk.
Lights and Electricity
Before installing decorative lights on a house or a tree, closely inspect each strand for frayed wires, bare spots and excessive kinking or wear. Discard and replace any lights that show signs of damage, which can pose a fire hazard.
Nearly half of survey respondents admitted they overload electrical outlets. During the holiday season, when you are likely to have more decorations, lights and other electrical items in use, take extra care to prevent overburdening an outlet and use certified surge protectors and power strips.
Exposed electrical cords and uncovered outlets can attract the attention of inquisitive children. Take care to secure cords out of reach and cover any outlets not in use.
Despite the obvious risk of leaving lit candles unattended, 27 percent of Americans admit to this practice and 25 percent of respondents report leaving them in reach of a child. If you must use a flame-burning candle, do so only while you are in the room and extinguish any lit candles if the room will be vacant.
Cooking Safety
According to the U.S. Fire Administration, holiday cooking is the leading cause of residential building fires in the month of December. With more cooking during this time, the risk of house fires and pediatric burns increases drastically. Outturned handles can be easily grasped by curious hands or snag on clothing or aprons and potentially scald a youngster underfoot. Be sure to turn pot handles toward the back of the stove, out of children's reach.