Film Review: Almost Christmas
Dwight Brown | 11/30/2016, 6 a.m.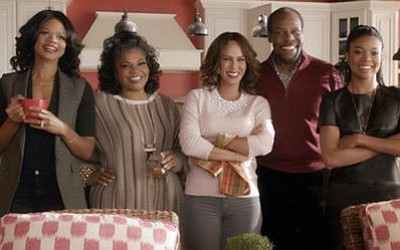 (NNPA) — Watching this humorous film is like getting a funny greeting card that makes you laugh as it warms your heart. This ode to the joy and angst people feel as their family reconvenes for the certain chaos, gluttony and joy during Christmas, is a nice way to start the holiday season. It's a very entertaining stocking stuffer. It's comic relief.
Under writer/director David E. Talbert's ("First Sunday") guidance you know there will be equal doses of merriment and inspirational message. Toss in producer Will Packer's ("Think Like a Man") sensibility and you can pile on the silliness and bawdy humor. What's on view is a raucous comedy that feels almost TV sit-com-ish. It's seasoned with enough soap opera-ish drama to make you laugh at the characters and be astonished by their mischievous schemes.
Walter Meyers (Danny Glover, "The Color Purple"), the successful owner of several auto repair shops, eagerly awaits the arrival of his four adult offspring and their extended families back to the Atlanta home they grew up in. He looks forward to their smiling faces, is somewhat saddened that his deceased wife Grace won't be there and is frankly wondering if his kids can set aside their differences for five days so they can enjoy the holidays. Fat chance.
His youngest daughter Rachel (Gabrielle Union, "The Birth of a Nation"), a perpetual law student who is low on funds, brings her young daughter and the grudge she bears for her older, far more successful sister Cheryl (Kimberly Elise, "For Colored Girls"), who is a dental surgeon. Big sis is coming with her flaky, conceited, retired basketball player husband with wandering eyes, Lonnie (JB Smooth, "Top Five").
Christian (Romany Malco, "Think Like a Man"), the oldest son is running for Congress and no one knows if he can forget campaigning long enough to focus on the family. His wife Sonya (Nicole Ari Parker, "Murder in the First") is skeptical. Evan (Jessie T. Usher, "Independence Day: Resurgence"), the baby of the family and a popular football player, is just getting off the disabled list (DL) and has a jones for painkillers, unbeknownst to the rest of the clan.
And if that isn't enough spice in the house, Malachi (Omar Epps, "Love and Basketball"), Rachel's old high school fling and neighbor, is hot on her tail. Alan, (John Michael Higgins, "Pitch Perfect"), Christian's campaign manager is working on a gentrification scheme that's in conflict with the downtown area that's home to a shelter where Walter's wife worked. Evan's old friend Eric (DC Young Fly, "Hollywood Hearts") is supplying him with drugs. And he's also hitting on Evan's saucy Aunt May (Mo'Nique, "Precious"), an aging backup singer. She claims: "I got vibrators older than that child!"
Surprisingly, African-American Christmas movies are quite prevalent: "A Madea Christmas" (Tyler Perry, Tika Sumpter), "The Best Man Holiday" (Monica Calhoun, Morris Chestnut), "This Christmas" (Loretta Devine and Chris Brown), "The Perfect Holiday" (Gabrielle Union and Morris Chestnut) and "Last Holiday" (Queen Latifah and LL Cool J). So, what sets this one apart? It's refreshing that the central character is a wise, silver-haired patriarch.