Film Review: Almost Christmas
Dwight Brown | 11/30/2016, 6 a.m.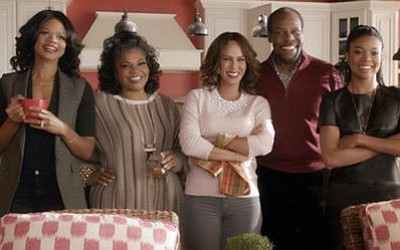 continued — And to add a bit of hot pepper to the mix, Aunt May, played with verve by scene-stealer Mo'Nique, adds just enough naughty humor to please adults and warrant an MPAA PG-13 rating. As she walks into Walter's house, May says to her brother-in-law: "Where's the liquor? I hope it ain't that dark liquor, because that dark liquor will make a bitch want to fight."
Playwright-turned-filmmaker David E. Talbert has a very assured style that involves "comedy in the midst of chaos." One minute there's a verbal brawl and the next moment everyone is laughing. This rhythm serves his plays and screenplays well, keeping audiences engaged through his explorations into the sometimes awkward dynamics of friendships, marriages and relationships. Comparisons to Talbert and Tyler Perry are inevitable. The difference is that Talbert is far more consistent as a writer and director.
Gabrielle Union and Kimberly Elise rattle off catty one-liners like they were schooled on Edward Albee's vicious "Who's Afraid of Virginia Wolf." For female viewers, Epps is the romantic ex-boyfriend who got away. Usher and Young Fly will keep the younger audiences engaged. JB Smooth is hysterical as the out-of-touch playboy who is courting disaster.
Perhaps the smartest bit of casting was giving Danny Glover the role as the dad and referee. His strong acting brings more to the role of Walter than most performers could summon. Strong, humbled, determined and embittered are just some of the emotions he shows over the course of 1 hour and 52 minutes. When he screams to his out-of-control family "It's my house," there is no question; he is the lord of the manor.
The second coup is having Mo'Nique spice up Aunt May to the point that you're belly laughing even before she opens her mouth. And for those who wonder if she really deserved her Oscar for Best Supporting Actress in the film "Precious," wait until you see final scenes when it is just her and Danny Glover at the dining room table talking about the sweet potato pie her sister used to make. It's a treasured moment.
John Paesano's impassioned musical score is supplemented with appropriate soul, pop and jazz tunes like Etta James singing the sultry "The Very Thought of You." Wynn Thomas' production design and Marthe Pineau's set decoration make Walter's house an enviable abode and the aisles of the Piggly Wiggly a perfect place for extramarital flirtations. Larry Blanford's photography and lighting give the footage a warm glow. The editing by Troy Takaki adds a solid beat.
If you're looking for Shakespeare, try another theater. If you want a good stick-to-your-ribs family comedy that will make you chuckle and forget your troubles, pull up a chair and sit down.
The spirit of the holiday season is in the house.
Dwight Brown is a film critic and travel writer. As a film critic, he regularly attends international film festivals including Cannes, Sundance, Toronto and the American Black Film Festival. Read more movie reviews by Dwight Brown here and at DwightBrownInk.com.