October is Breast Cancer Awareness Month
Early Detection Can Be a Life Saver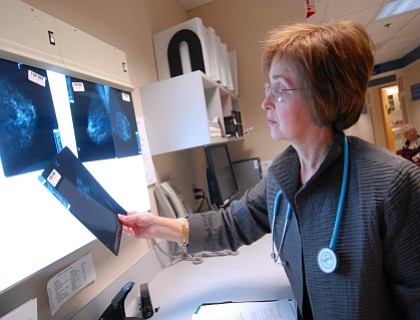 October is Breast Cancer Awareness Month, which is an annual campaign to increase awareness of the disease. Recently, Amy McCoy reflected back on this time in her life two years ago.
"2014 was a very difficult year in my life," recalled McCoy. "I had recently lost my father to lung cancer, and my mother had received a breast cancer diagnosis. "I had gone to Advanced Radiology for an examination for an upcoming surgery, and during the exam, a lump was detected. That lump had been there since I was 18. I never worried about it because it had been a cyst. However, this time it turned out to be a very large tumor, and before I left Advanced Radiology that day, I was informed I had breast cancer."
McCoy was 36-years-old when she was diagnosed with Stage 3 breast cancer. According to the National Breast Cancer Foundation, Inc., (NBCF) breast cancer ranges from Stages 0 to 4. Stage 0 breast cancer is a non-invasive cancer where abnormal cells have been found in the lining of the breast milk duct. Stage 1 is when breast cancer is evident, but it is contained to only the area where the first abnormal cells began to develop.
Stage 2 means the breast cancer is growing, but it is still contained in the breast or growth has only extended to the nearby lymph nodes. In Stage 3, the breast cancer has extended to beyond the immediate region of the tumor and may have invaded nearby lymph nodes and muscles, but has not spread to distant organs. Stage 4 breast cancer means that the cancer has spread to other areas of the body, such as the brain, bones, lung and liver.
Now 38, McCoy's breast cancer is in remission.

"I give the credit to God," said the mother of three. "I am so appreciative of the care I received at the Comprehensive Breast Center at Saint Agnes. "They made me feel like I was their only patient, and gave me the kind of care that every patient deserves. "
Located at 900 S. Caton Avenue, Saint Agnes' Comprehensive Breast Center is one of the first 135 hospitals in the U.S. to be fully accredited by the National Accreditation Program of Breast Centers (NAPBC). Physicians from multiple specialties come together to develop the most effective and comprehensive treatment plan for each patient.
"I had a medical oncologist, a radiation oncologist. a surgeon, a financial planner and the list goes on," said McCoy. My mother is a patient there, and her cancer is also in remission. They are phenomenal."
Dr. Diana Griffiths is the Medical Director of the Comprehensive Breast Center at Saint Agnes Hospital. She is credited with bringing the multi-disciplinary team approach to Saint Agnes Hospital.
"Breast cancer is the most common cancer after skin cancer for women," said Dr. Griffiths. "The incidence among white women used to be higher than African American women. However, while the incidence among white women has stabilized, the incidence has increased among African American women. In some parts of the country, those numbers have caught up and even passed the incidence among white women."