October is Breast Cancer Awareness Month
Early Detection Can Be a Life Saver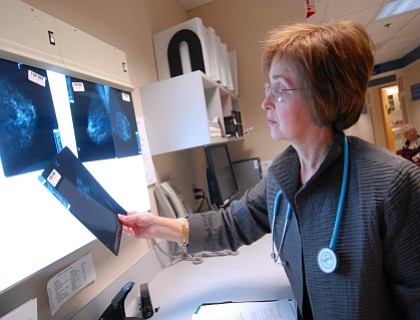 She added, "The other caveat to this is that what sets the African American community apart is that they tend to have higher mortality rates for breast cancer. People once thought that economics were a factor, but we now believe there may be some biological differences that have resulted in the more serious cases."
With special expertise in medical oncology, Dr. Griffiths is highly recognized for her development of unique treatment plans and various treatment options.
"African-American women tend to have a higher incidence of more aggressive cancers, and often do not respond as well to hormone-based pills and other treatments," said the medical oncologist. "Certain cancers have a more aggressive course when these treatments don't work."
She added, "Since African American women tend to not be as responsive to these treatments, we believe biological differences are a contributor to the disparities regarding black women and breast cancer. While this hasn't been pinned down, we strongly believe there is a component picture in there."
Dr. Griffiths says the best approach to fighting breast cancer is preventative care.
"Mammograms continue to be the most effective screening exam for breast cancer," she said. "I recommend annual mammograms starting at age 40. Mammograms help to detect at an earlier phase, as opposed to waiting for a person to feel something in their breast. Lifestyle changes such as maintaining a healthy body weight, regular physical activity, limiting alcohol consumption, not smoking, and eating more fruits and vegetables also lowers the risk."
She added, "Early detection is the key. The death rate for breast cancer has dropped by 36 percent since 1989 due to early detection and new advances in treatment. Getting a mammogram may be a little uncomfortable, but it's a whole lot better than being diagnosed, and then being told nothing can be done. Women have to be healthy and take care of themselves so that they can be here with those they love and care about."
For more information about the Comprehensive Breast Center at Saint Agnes, visit www.stagnes.org