Why your next statement purchase will come from Africa
Nosmot Gbadamosi | 10/9/2016, 10 a.m.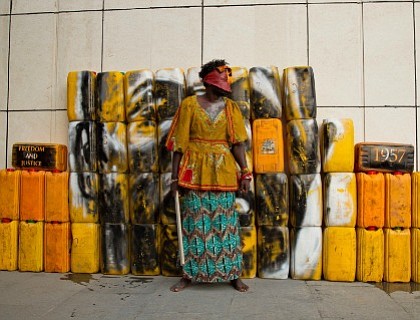 (CNN) — (CNN) -- There is a new international scramble for Africa happening but this time it is not for lucrative geographical territories but its modern art.
Investment in the right pieces can see a 10-fold increase in their future value -- leading to a plethora of international galleries vying to represent its artists.
While reports of Africa's growing middle class art collectors abound, of which there is, in reality 80 per cent of sales in African art still come from international collectors mainly in the US and UK.
Something that art fairs such as 1:54 Contemporary African Art Fair - which opened yesterday at London's Somerset House -- has capitalized on.
Individual prices at last year's fair reached almost $70,000.
When 1:54, named after the 54 countries that make up the African continent, launched four years ago, it did so to just one wing of the 16th century house.
Today, the fair takes over the entire building, a testament to the show's increasing popularity.
Fighting for control
However this year a quiet riot is taking place; Africa, no longer content with seeing its artists fronted by foreign galleries, is fighting for control.
17 galleries make their debut at 1:54 and a considerable number of them are based on the continent such as Gallery 1957 - which opened in Ghana earlier this year.
Its Lebanese-born founder Marwan Zakhem, told CNN he wanted to give artists "the option of not having to travel internationally and hook up with galleries around the world."
Many artists struggling to get their artworks noticed, inevitably move to the US or Europe notes Zakhem.
Gallery 1957 -- named after the country's year of independence, allows artists "to be able to do their work within Ghana but have the platform to be able to take it internationally - I don't think a lot of artists have had that opportunity," he says.
A closer relationship
The gallery brings to 1:54, the works of Serge Attukwei Clottey, born and raised in Ghana's capital. For Clottey, being represented by an Accra based gallery means a closer relationship and bond.
"As an artist I just can't deal with this whole markets and everything, because I'm in my process I just want to do my art," says Clottey.
"I just want to be in my studio and create my work, but, I believe getting to work with good galleries is quite important because then you can become less concerned with the politics of it."
Clottey's works often deal with political and social issues in Ghana.
His use of the yellow jerry cans used to carry water in Ghana, is recognizable.
"The plastic jerry cans for me has a very interesting journey coming from Europe and into Africa," he says.
Giving artists their own voice
Also debuting at 1:54 is Ethiopia based Addis Fine Art, which opened its doors January 2016.
"We wanted to tap into the wider market so that our artists can get recognition and be commercially successful," its co-director Rakeb Sile told CNN.