Engineer's 'hustle' becomes successful construction company
By Avis Thomas-Lester | 10/14/2016, 6 a.m. | Updated on 10/13/2016, 4:24 p.m.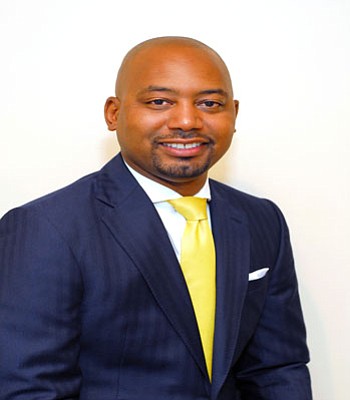 Urban News Service — Brunson L. Cooper dreamed of starting his own construction firm but had no money, no investors and no connections. He decided to become his own rich uncle.
The engineer spent 16 years working at Turner Construction, one of America's largest builders. He always lived below his means and saved what he could but his nest egg wasn't enough to start his own construction firm in 2009. So he kept his "day job" at Turner for three years, while starting Corenic Construction Group on the side. Keeping his job at Turner
allowed him to get started and time to raise additional funds, to assemble a team and land his first few projects.
"Then I never looked back," said Cooper, 43, of Bowie, Maryland. "The company had grown enough that it needed my full-time attention, and I could actually take care of my family as well as I had at Turner."
Corenic Construction, based in the District of Columbia, employs 30 people who have completed more than 1,000 projects, including a 30,000-square-foot showroom addition at BMW of Sterling, Virginia, and renovation of a 9,500-square-foot space at George Mason University in Fairfax, Virginia. Corenic's clients have included the Army, Navy, the Department of Homeland Security, LOWE Enterprises and the Penzance Companies. Corenic earned $20 million last year, Cooper said. Quite a turnaround from a business he started on the side in 2009.
Cooper's secret is simple and old-fashioned: integrity, honesty and hard work. Cooper said these principles were
instilled in him as he grew up in tiny Hemingway, South Carolina, a three-traffic-light town 32 miles— as the crow flies— from Myrtle Beach.
His father, the late Brunson Cooper, Jr., worked as a mill foreman at International Paper. His mother, Gladys, 79, taught second grade. His older brother, Calvin Davis, still lives in town and coaches high school basketball. Letia Cooper, his younger sister, is the IT coordinator for the Williamsburg County School District, where each of the Coopers went to school.
When his father wasn't at the factory, he tended a huge garden behind the family's home. It supplied vegetables for the Coopers and several senior citizens to whom he regularly provided food. The elder Cooper also ran a catering company, which barbecued whole pigs. Little Brunson was his assistant.
"My dad always said, 'Have your job and have what you call your hustle.' Your hustle is a job to help you make extra money," Cooper said, laughing. "Catering was his hustle."
Cooper said his chores included tidying the family's 2.5-acre spread with a push mower, every week and washing his father's Chevy pick-up every three or four days.
"He kept me very grounded in terms of working to get what you want or need in life," Cooper said.
In high school, the six-foot-four-inch Cooper excelled on the basketball court and in the art studio. He spent one summer in the coveted South Carolina Governor's School for the Arts and Humanities program. He worked another summer at a local Tupperware plant.