Princess Tiana Follows Her Heart To Baltimore
Tiffany Ginyard | 10/14/2016, 6 a.m. | Updated on 10/13/2016, 1:55 p.m.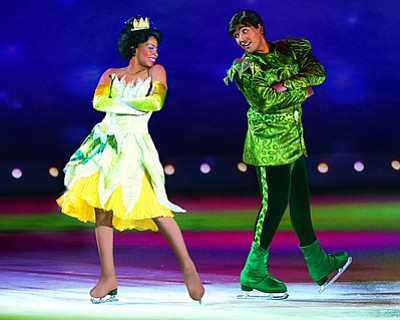 BALTIMORE — If Hope Alexander hadn't followed her heart, she'd probably be working for some government agency putting her degree in international studies to work. Instead, she tours the world bringing Disney's Princess Tiana's character to life on ice. As a figure skater with the infamous Disney On Ice show, the Wilmington, Delaware native has performed before audiences in Japan, China, Macau, Philippines, South Korea, Singapore, Thailand, Australia, New Zealand, among many other destinations, with the Treasure Trove tour. This month, Alexander is set to perform at the Royal Farms Arena in Disney On Ice's latest production— Follow Your Heart— playing the role of her dreams.
Tiffany: What does the theme of the show "Follow Your Heart" mean to you personally? In what ways have you followed your heart to be who and where you are today?
Tiana: "Follow Your Heart" is a motto that I try to live by everyday. I think it's important to always go after your goals and try your best to achieve your dreams, and being on Disney on Ice is definitely a dream come true. When I was younger and competing I never imagined that I would someday be a professional figure skater, and now I'm so grateful for where I am in life.
Tiffany: Can you speak to what it was like growing up pursuing your interest in skating? How did it develop?
Tiana: My mom took me skating when I was about two years old. She had fond memories of going skating with her friends when she was younger and she wanted me to have some of the same memories.The second I stepped on the ice I fell in love with it immediately. A little later down the line I started taking groups lessons and eventually private lessons at my local skating rink. I started competing when I was seven years old and stopped when I was 16. Skating takes a lot of sacrifice. Once I got to a higher level I would have to wake up before school to skate and once the school day was over I would head back to the rink for more skating sessions and off-ice training. It was stressful at times but completely worth it.
Tiffany: You mentioned you suffered an injury early in your career and took a break from skating for a while. Did you always know you'd return? What was that experience like? What did you do in the meantime?
Tiana: When I had to stop skating because of my injury I was heartbroken and I honestly didn't think I would really pick it back up again.I started running track at that point and actual ended up getting a track scholarship for college. Even though I was sad about not being able to skate anymore, I was very grateful that I was able to find something else that I really enjoyed doing.
Tiffany: What brought you back to the ice?
Tiana: Once I graduated from college I wasn't sure what I wanted to do and I decided to audition for a couple smaller ice shows. I really liked being a part of those shows so I decided to apply to Disney and 5 years later, here I am.