Black women's roundtable launches national vote effort
Lauren Victoria Burke | 10/19/2016, 6 a.m.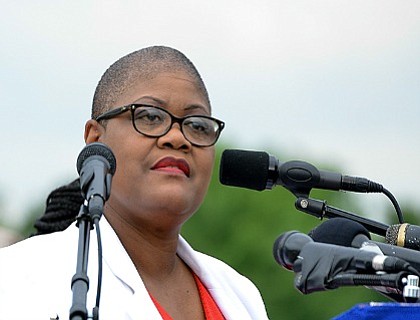 (NNPA) — The Black Women's Roundtable (BWR) and the Unity'16 Campaign of the National Coalition on Black Civic Participation (NCBCP) recently announced a nationwide "Get Out the Vote" campaign. BWR is the women and girls empowerment arm of The National Coalition on Black Civic Participation.
A plan called "State of Emergency #PoweroftheSisterVote" will focus attention on key battleground states in the race for the White House. Those states include Georgia, Ohio, North Carolina, Virginia and Florida. The goal of the campaign is to maximize the African American voter turnout for November 8.
The three-week push will include several "get out the vote" activities in the above states. The volatility of the election cycle that has given rise to a reality TV star and real estate mogul, Donald Trump, has made the turnout strategies for both parties of vital importance. No one expects the turnout percentage to be what it was in 2008 and 2012 when a historic candidate like Barack Obama, was on the top of the ticket.
To complicate the effort further, there has been a noteworthy "enthusiasm gap" between the Clinton campaign and the Trump campaign, with Trump speaking to consistently larger crowds than his competitors and Clinton sticking with relatively safe talking points on her stops. Even though (BWR) and the Unity'16 Campaign effort is non-partisan, the constituencies targeted in their campaign are African Americans likely to vote for Democratic candidates — particularly with Donald Trump on the scene.
President Obama's back-to-back victories showed the power of minority voters. Soon after President Obama was elected, new voter ID laws popped up in states with Republican Governors and legislatures.
Political analysts wonder if the same constituencies will turnout at the same levels as they did four and eight years ago. African American women have maintained the highest voting percentage of any group in the American electorate for the last two presidential cycles.
"Black women are a powerful force when it comes to getting our families and friends out to vote and we are the 'secret sauce' to who gets elected to the White House, Congress, state and local elections," said Melanie Campbell, the convener of the Black Women's Roundtable. "We are working to encourage our millennial Black women to take the lead in ensuring that they use peer-to-peer interaction to encourage young people to vote and to get their communities to vote."
In lieu of new laws that make it harder to vote implemented over the years, voter suppression will be a key focus.
"It is vital for Black millennials to seize our voting power in order to hold elected officials accountable to win on the issues we care including criminal justice and policing reform," said Tamika Mallory, a board member of Justice League NYC.
The "Get Out The Vote" efforts will include four town halls:
Georgia, North Carolina – October 17-23
Ohio, North Carolina, Alabama – October 23-29
Florida, North Carolina – October 30-November 5
Virginia & Pennsylvania – Blitz Weekends – October 30 and November 5
A detailed calendar can be found at www.unitycampaign.org.
Lauren Victoria Burke is a political analyst who speaks on politics and African American leadership. She can be contacted at LBurke007@gmail.com and on Twitter at @LVBurke.