Black women will elect the next president
Freddie Allen | 10/26/2016, 6 a.m.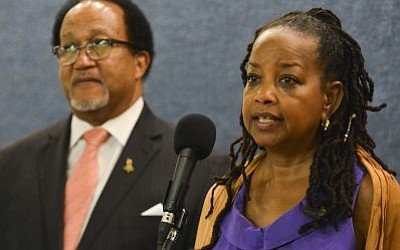 continued — According to the briefing paper on the importance of Black women voters in 2016, "In 2012, 83 percent of registered Black women turned out, compared to 73 percent for all other women, a ten-point difference. Black women turned out at a higher rate than other women in 2014 as well. Fifty-five percent of registered Black women turned out in 2014, compared to 53 percent for all other women."
Berkley said that Black women do more than vote.
"We're very active in our churches, we're very active in our communities and we're very active in our unions," she said.
According to a survey by Lake Research Partners (LRP), a leading public opinion and political strategy research firm, Black workers are far more likely to view labor unions favorably (77 percent for Blacks vs. 50 for all-respondents) compared to other workers.
Petee Talley, the secretary-treasurer of Ohio branch of the AFL-CIO, said that evidence shows that Black women union members have stepped up in remarkable ways.
"Not only are they organizing inside of their unions, they are organizing the Black community around vote registration efforts," said Talley.
And when Black women take on leadership roles, they have the power to significantly affect elections inside their unions.
The briefing paper said: "As labor scholars Kate Bronfenbrenner and Dorian Warren found in their oft-cited study "Race, Gender, and the Rebirth of Trade Unionism," unions won 89 percent of elections where Black women were the lead organizers compared with 53 percent for female organizers overall and 42 percent for male organizers."
The report noted that Black women were more likely than any other group to skip at least on race on the ballot.
"By skipping down ballot races, Black women lose the potential to be a political force in local races, which arguably have a more direct impact on the day-to-day lives of Black people," the report said.
The briefing paper said that as the labor movement grows, it should look to Black communities and Black women organizers as a potential base for power.
"This requires incorporating Black communities into long-term strategic thinking and lifting up the most progressive voice of the Democratic base," the briefing paper said. "For organized labor and other parts of the political left, Black women are a smart investment, in 2016 and beyond."
Rolark Barnes said that Black women hold the power of the vote and also have the influence in their households to make sure their families and friends get out to vote.
Rolark Barnes continued: "We need to come out strong, like we did before, and make the difference we know we can make in November."