Backlash to police shootings resonates beyond Charlotte, Tulsa
Max Blau and Eliott C. McLaughlin | 9/22/2016, 11:46 a.m.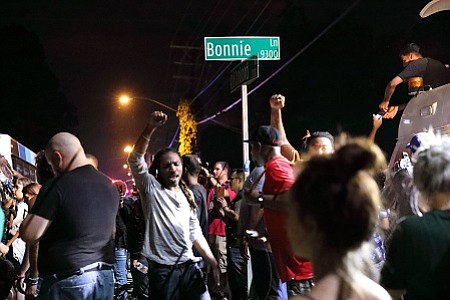 (CNN) — Tensions have resurfaced this week in the wake of another round of black men being shot by police.
The shootings of Keith Lamont Scott in Charlotte, North Carolina, and Terence Crutcher in Tulsa, Oklahoma, have served only to fuel the simmering unrest seen nationwide since the death of Michael Brown in Ferguson, Missouri, in 2014.
They're not the only stories of police-related violence unfolding in the United States. Developments in stories out of Boston, Baltimore and St. Louis could serve to further stoke the nation's anger.
Perhaps not since July -- when police killed Alton Sterling in Baton Rouge, Louisiana, and Philando Castile in Falcon Heights, Minnesota (while gunmen killed police in Dallas and Baton Rouge in the following days) -- have we seen the confluence of so many stories like these.
Old footage, new questions
Earlier this week, a dashcam recording of a police encounter in St. Louis made its way into the hands of a reporter with CNN affiliate KTVI, offering new evidence that an ex-St. Louis cop currently facing a murder charge allegedly planted a gun on the black man he killed.
When Officer Jason Stockley attempted to stop suspected drug dealer Anthony Lamar Smith in 2011, Smith led officers on a high-speed chase that ended with police cruisers surrounding his vehicle. Stockley fired five shots at Smith, prosecutors later said, and police said it was justified because Smith was armed.
Prosecutors later alleged the weapon didn't belong to Smith. Why? There was only Stockley's DNA on the weapon.
The former officer now faces a first-degree murder charge.
Stockley's attorney, Neil Bruntrager, told KTVI that additional footage would show a different, fuller perspective of the incident.
Protect or profile?
In another case exemplifying the public's mistrust in police, the Supreme Judicial Court in Massachusetts tossed out a five-year-old gun conviction in the case of Jimmy Warren, a black man from Boston.
In 2011, Boston police investigating a home robbery received a report that three black men had left the home. As officers searched for the suspects, they tried to stop Warren, who fled. After catching Warren, officers took him into custody after finding a gun nearby. He was charged with unlawful possession of a firearm.
But the state's highest court ruled that officers didn't have a good enough reason to stop Warren.
"Such an individual, when approached by the police, might just as easily be motivated by the desire to avoid the recurring indignity of being racially profiled as by the desire to hide criminal activity," Justice Geraldine Hines wrote in Tuesday's unanimous ruling, which referenced the disproportionate rates at which Boston police stopped and frisked black men between 2007 and 2010.
No charges
Baltimore County police killed Korryn Gaines, 23, last month after a seven-hour standoff that Gaines attempted to live-stream on Facebook. The exchange of gunfire resulted in her 5-year-old boy suffering a gunshot wound to the arm.
The live-stream drew national attention as Gaines is heard asking the boy what the police are trying to do. He answers, "They're trying to kill us."