President Obama makes urgent call for black voter turnout
Dr. Benjamin F. Chavis, Jr. | 9/22/2016, 3 p.m.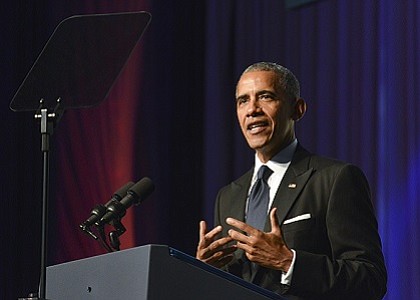 (NNPA) — Last Saturday, we were pleased to witness, firsthand, President Barack Obama's keynote address at the Congressional Black Caucus Foundation's 2016 Phoenix Awards Dinner; it was his final speech, as Commander-In-Chief, at the celebration that included Black members of Congress, celebrities, civil rights leaders, journalists and corporate partners. Thousands of guests in their black-tie attire gave the President of the United States of America a rousing standing ovation in response to his speech that focused on the progress that we've made, as a nation, during Obama's eight years in the White House.
But the most poignant and dramatic utterance by President Obama during his remarks happened when he energetically stated, "There's no such thing as a vote that doesn't matter. It all matters. And after we have achieved historic turnout in 2008 and 2012, especially in the African-American community, I will consider it a personal insult, an insult to my legacy, if this community lets down its guard and fails to activate itself in this election."
President Obama emphasized, "You want to give me a good sendoff? Go vote. And I'm going to be working as hard as I can these next seven weeks to make sure folks do."
The countdown to the most important election in our lifetime has begun.
We concur with President Obama. The national elections across the nation on November 8, 2016 are tremendously important and crucial to Black America and to all Americans, who want freedom, justice and equality.
Beware of the false prophets that are predicting and even hoping for a low African American voter turnout. We defied the odds in 2008 and in 2012 with large Black voter turnouts. Now we must do it again.
The best way to celebrate Black history is to make more history. The turnout of voters to the polls in Black America will once again be the single most determinative factor in the outcome of the national elections and for the future of America.
It is important to note here that President Obama's speech to the Congressional Black Caucus Foundation's gala occurred exactly one week before the official opening of the National Museum of African American History and Culture scheduled for September 24, 2016 in Washington, D.C.
NNPA members and staff had an opportunity to have a media preview of the new museum. It was a breathtakingly revealing display of the struggles, sufferings, and triumphs of Black America. Yet, one could also see vividly that Black Americans paid a very heavy price and bloody sacrifice to get the right to vote in the United States.
This sacred history calls us again to action today. That is why the President also said, "So if I hear anybody saying their vote does not matter, that it doesn't matter who we elect — read up on your history. It matters. We've got to get people to vote."
We in the National Newspaper Publishers Association (NNPA) are helping to lead the combined nationally coordinated Get-Out-The-Vote (GOTV) campaign to ensure that more than 20 million Black American voters will surge to the voting polls in every precinct throughout the county on November 8. 2016.