President Obama makes urgent call for black voter turnout
Dr. Benjamin F. Chavis, Jr. | 9/22/2016, 3 p.m.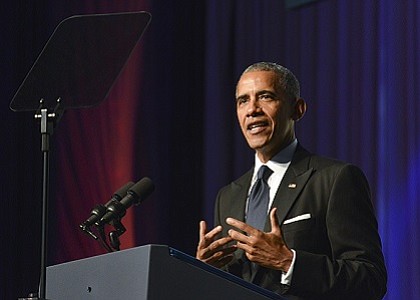 continued — To achieve the goal of "20 Million Black Voters to the Polls," the NNPA's Project Black Voter Turnout 2016: 20 Million Black Voters to the Polls will work in coordination with the National Coalition on Black Civic Participation (NCBCP) that offers an online link for voter registration. Time is running out to register to vote in many states. If you are not registered to vote, do it today without delay.
In addition, the NNPA will work to coordinate national GOTV efforts with the National Association for the Advancement of Colored People (NAACP), National Urban League, National Action Network (NAN), Rainbow PUSH, National Medical Association, National Association of Black Social Workers, National Association of Black Journalists, National Association For Equal Opportunity in Higher Education (NAFEO), Thurgood Marshall Center for Social Justice, National Association of Real Estate Brokers (NARWB), and with the Southern Christian Leadership Conference (SCLC),
Project Black Voter Turnout 2016: 20 Million Black Voters to the Polls will also work with the following national Black church organizations and religious leaders: National Baptist Convention, Progressive National Baptist Convention, African Methodist Episcopal Church, African Methodist Episcopal Zion Church, Church of God in Christ, United Church of Christ, and the Impact Network.
President Obama concluded, "If you care about our legacy, realize everything we stand for is at stake. All the progress we've made is at stake in this election. My name may not be on the ballot, but our progress is on the ballot. Democracy is on the ballot. Justice is on the ballot. Good schools are on the ballot. Ending mass incarceration — that's on the ballot right now!"
The NNPA member Black-owned newspapers reach more than 20 million readers per week and we all will be engaged and aligned in the necessary mobilization and encouragement of millions of Black Americans and others to vote on November 8. Keep up with our campaign with social media by following the hashtags #BlackVotesMatter and #BlackPressMatters. Connect with us on Twitter and Facebook @BlackPressUSA and @NNPA_BlackPress.
Dr. Benjamin F. Chavis, Jr., is the President and CEO of the National Newspaper Publishers Association (NNPA) and can be reached for national advertisement sales and partnership proposals at: dr.bchavis@nnpa.org; and for lectures and other professional consultations at: http://drbenjaminfchavisjr.wix.com/drbfc.
PHOTO CAPTION: During his keynote address at the 2016 Phoenix Awards gala, President of Barack Obama said: "My name may not be on the ballot, but our progress is on the ballot. Democracy is on the ballot. Justice is on the ballot." (Freddie Allen/AMG/NNPA)