T.D. Jakes to tackle headlines in new talk show on OWN
Stacy M. Brown | 9/23/2016, noon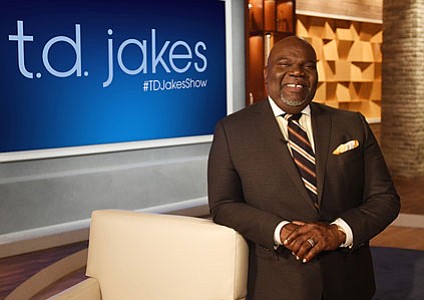 (NNPA) — The struggles of an interracial marriage, families divided by race, religion and politics and the conversion of one Jewish woman to Islam are all upcoming segments that will be featured on Bishop T.D. Jakes' new talk show which premieres on the Oprah Winfrey Network (OWN) on Monday, September 19 and is schedule to air Monday through Friday at 6 p.m.
Jakes, one of the most influential pastors in America today, who has written books, music, plays and movies, said that his show could even provide discussion on topics like the Black Lives Matter Movement and controversial subjects like the National Anthem protest by Colin Kaepernick and the rape trial of comedy superstar Bill Cosby.
"When we can get them, we're not shying away. We will do stories that are in the headlines," said Jakes, 59, the senior pastor of the Potter's House in Dallas, Texas and the author of the New York Times' bestselling books, "Instinct," and "Destiny."
"I think there is a great need in our country right now for something that is uplifting and that builds bridges and causes people to rethink themselves," Jakes said. "Much of what we see on television doesn't accomplish that. I'm hoping to bring the kind of conversation to America that's informative and inspirational and still entertaining," he said.
Because he's well-known in the pulpit doesn't mean he'll be preaching on the talk show, Jakes said, noting that he can reserve sermons for Sundays.
"That's not all of who I am," said Jakes. "I've seen a lot of things, I've met with presidents and interacted with CEOs."
Jakes continued: "I've been to the courtroom and watched a crying mother say goodbye to her son; I've been to visit those on death row. I've been there when individuals have been disconnected from life-support; I've been to drug interventions. This September marks 40 years that I've been in the ministry, so this isn't anything that's new, only [now] I'll be in front of the cameras."
If social media buzz is any indication, the new show will be a hit.
The show's Twitter handle, @TDJakesShow, had almost 23,000 followers before a single episode had aired. Jakes said that social media will play a big role in his new venture.
"We want people to tweet or go on Facebook to continue the conversation," he said. "You can't always solve a problem in the 45 minutes you have on the show and I don't see this just as a show, but as a network communication device to uplift people. So, after the show is over, you can still go on social media to keep the conversation going."
Whether it's Facebook, Twitter or other websites, it's important to reach those who use social media, the bishop said.
"The stats say that hardly anyone sits in front of a big screen without a little screen in front of them in their hands and I'm guilty of that too," he said. "Being able to engage in every medium is important and I have a huge respect for the power of social media."