Breaking the cycle: Young mother of seven turns life around at McDonald's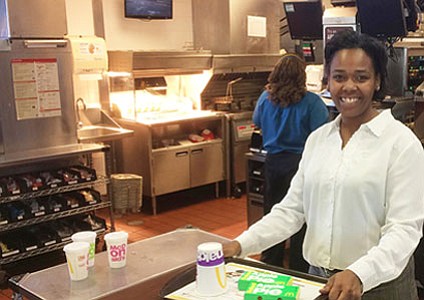 (NNPA) — Ten years ago, Cameo Faust, a single mother of seven was working at an Atlanta-area McDonald's, struggling to make ends meet and highly motivated to make a better life for herself and her family.
Now, she's the general manager, who is responsible for the operation of the restaurant and in charge of helping to build a team of employees to help the business flourish.
Faust gave birth to her first child when she was 14. Faust's mother, Shirley Randolph, had given birth to her first child at the age of 12.
"By the time I was 15, I had twins, plus the baby. At 17, I had four kids, and then I had five by the time I was 18 and, finally, by 26, I had seven," she said, unapologetically, naming them in range from the oldest to the youngest – Jasmine, Markiesha, Marcus, DeMarcus, Sparticus, Sparkle and Joshua.
Now, Faust, at 36 years-old, realizes that with each pregnancy, she was desperately trying to fill a void created by the loveless, tumultuous relationship that she had with her own mother.
"My mother would always be fussing at me telling me not to wear a head rag or not to do this or to do that…[she was] always so mean and I didn't want to listen to her. I'm having these kids to have someone to love because nobody ever loved me," Faust said.
Although she continued in a relationship with the father of her children, Faust knew that a life of struggle wasn't ideal. At the time, Faust didn't even have a high school diploma.
The proverbial light bulb in her head switched on when the town's water company turned off her water, Faust said.
"I was dating my children's father and one day the water got cut off and I asked him what were we going to do," she said. "He looked at me, told me that he didn't know what I was going to do, but that he was leaving."
Stunned, the unemployed Faust showed him the door.
"I just got tired," she said. "I told him that he could go."
Now, with five children, no money, no job, no high school diploma, and a paltry $367-a-month welfare check, Faust began pounding the pavement.
"I kept walking up and down the street for about three days. There were a lot of fast food restaurants and I would walk up and down every day asking for a job," she said.
"I stopped in at McDonald's near Riverdale Road and asked if I could apply for a job. [The supervisor] told me to come back the next day," Faust said. "I explained that it took me an hour to walk here, but he said, 'I should come back.' I kept coming back and he'd tell me to come back again and again. I was tired, but finally I was hired as a crew person."
At first, the job only added to Faust's problems.
She had five children at home with the oldest just 10 years-old.