NBC looks to Lester Holt for debate win after 2016 mishaps
Dylan Byers | 9/26/2016, 10:45 a.m.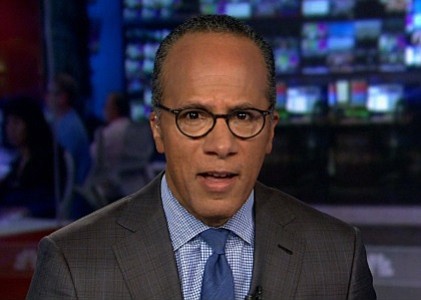 NEW YORK (CNNMoney) — There is a great deal at stake at the first presidential debate between Hillary Clinton and Donald Trump. One of those things -- not nearly so significant as who will be the most powerful person in the world, certainly, but unquestionably there -- is the reputation of a news network.
On Monday night, executives at NBC will be looking to Lester Holt, the anchor of "NBC Nightly News" and the debate's moderator, to deliver a much-needed win for their network, which has suffered through some of the most embarrassing storylines of the 2016 campaign.
"Matt Lauer" and "The CNBC Debate" have become shorthand for the most poorly handled major media events of the cycle. MSNBC's "Morning Joe" has also been a sore spot, first criticized for being too pro-Trump, and then for putting on display the very public falling out.
Though NBC itself is not the organization putting on the debate, Holt's presence on the stage is an indirect reminder of NBC's most high-profile controversy of the last two years: Brian Williams' firing from Nightly News after he was caught lying about his experiences covering the Iraq War. (Holt replaced Williams as anchor of "NBC Nightly News.")
Fairly or unfairly, NBC's recent missteps have overshadowed the strong political journalism that takes place on a daily basis on MSNBC, nightly basis on NBC Nightly News and weekly basis on NBC's "Meet The Press," and that has buoyed their ratings and their brand. And while there are much greater things at stake on Monday night than NBC's reputation in 2016, that reputation is on the line all the same.
The first campaign-related blow to the network came last October, when CNBC conducted what was widely viewed as the low-water mark of the Republican primary debate process. The moderators -- Carl Quintanilla, Becky Quick, John Harwood, and a bevy of contributors -- were slammed for losing control of the debate and asking unfocused and ill-informed questions.
The CNBC Debate was such a mess that the Republican National Committee decided to suspend its partnership with NBC for February's Super Tuesday debate, despite the fact that CNBC and NBC News are two different divisions of NBCUniversal. (That debate instead went to CNN.)
"While debates are meant to include tough questions and contrast candidates' visions and policies for the future of America, CNBC's moderators engaged in a series of 'gotcha' questions, petty and mean-spirited in tone, and designed to embarrass our candidates," RNC Chairman Reince Priebus wrote at the time. "What took place... was not an attempt to give the American people a greater understanding of our candidates' policies and ideas."
Blacklisted from the Republican debates and not included in the Democratic lineup, NBC faced the prospect of a debate-less primary season. But weeks before the New Hampshire primaries, NBC pushed for (and won) an additional Democratic debate. That debate, moderated by Chuck Todd and Rachel Maddow, was widely seen as a success.
Meanwhile, however, another controversy was brewing at MSNBC. For months, "Morning Joe" co-host Joe Scarborough had been using his show to defend and promote his friend Donald Trump. By February, his friendship with Trump had become a source of widespread discomfort among NBC News journalists.