NBC looks to Lester Holt for debate win after 2016 mishaps
Dylan Byers | 9/26/2016, 10:45 a.m.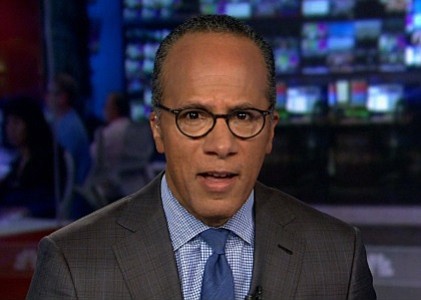 continued — In addition to praising Trump on his show, Scarborough had talked openly about calling the candidate and giving him political advice. He and his co-host Mika Brzezinski even visited Trump's hotel room after the New Hampshire primary (for what MSNBC described as "background discussions" with Trump and his staff). In an interview on "Morning Joe" the next day, Trump told the co-hosts, "You guys have been supporters, and I really appreciate it... Not necessarily supporters, but believers."
Scarborough and Trump's friendship fell apart in the spring after Scarborough took a more critical stance on the candidate -- "He basically said we weren't his friends anymore," Scarborough recently told GQ. (There has been some effort recently to rebuild bridges -- last week, Scarborough and Brzezinski visited the GOP nominee at Trump Tower and discussed the possibility of conducting another interview.)
But the scrutiny surrounding Scarborough and the CNBC debate pales in comparison to the scathing reviews that followed Matt Lauer's performance as moderator of NBC's Commander-in-Chief forum on September 7.
Lauer -- the co-host of NBC's Today show, and one of the network's marquee talents -- was pilloried by political observers, media critics and the general public for relentlessly pressing Hillary Clinton on her private emails and letting Trump skate by without being challenged on lies and lack of specifics.
"In an event aboard the decommissioned aircraft carrier Intrepid, the 'Today' host was lost at sea," New York Times television critic James Poniewozik wrote in one of the more scathing critiques. "Seemingly unprepared on military and foreign policy specifics, he performed like a soldier sent on a mission without ammunition, beginning with a disorganized offensive, ending in a humiliating retreat."
One NBC executive told CNNMoney the event had been a "disaster."
It's likely that these controversies are far from Holt's mind as he prepares for Monday night's debate. He has spent weeks doing research, crafting questions, preparing for every possible scenario. The awesome responsibility of his task -- as a journalist and a citizen -- probably eclipses the concerns of his network executives. Nevertheless, it is the backdrop against which NBC enters Monday's night debate.
The good news, for NBC, is that Holt is seen as perhaps uniquely capable and qualified to be a debate moderator. As his colleagues describe him, he is one of the most focused and hardworking personalities in television news, with 35 years experience and, in all that time, not a controversy to speak of.