Kids review the presidential debate: Candidates didn't 'play nice'
Kelly Wallace | 9/28/2016, 4 p.m.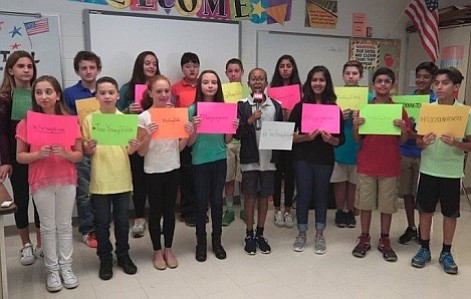 (CNN) — A group of middle-schoolers in New Jersey, all members of their school's student council, were dismayed by the performances of both Donald Trump and Hillary Clinton in the first showdown of this most unusual presidential campaign.
Asked whether the presidential candidates "played nice" with each other in their highly anticipated first debate, none of the 16 students who gathered to talk with CNN on Tuesday raised their hands.
Trump, the Republican businessman, interrupted the Democratic politician way too often, said Emma Zwickel, an eighth-grader and a Trump supporter.
"Every time that Hillary said something that Donald Trump didn't agree with that was about him, Donald would be like, 'Wrong, wrong, wrong,' " said Emma, vice president of the student council at Robert R. Lazar Middle School in Montville, New Jersey. "Hillary at least wasn't interrupting him."
Riya Jain, a seventh-grader, said both candidates are not playing fair and should have considered their opponent's points and listened to what they were saying. "I think that they should listen to each other, because the main thing a president needs to have is listening skills and ideas and being open to different thoughts and opinions."
If she treated her siblings or friends the way she thinks the candidates treated each other at the debate, Riya said, she would be grounded for a week or maybe longer.
Mihir Tanguturi, a sixth-grader, said he would probably be punished too and wouldn't have the friendships he has today. "I definitely wouldn't have many friends at all, and they would know that I wasn't a very nice person."
Megha Rameshkumar, a seventh-grader who said she remains undecided, said Trump was being "rude" and not "really respectful" every time he interrupted Clinton.
"I think he should have let her speak, because he had a chance to speak after her, so he could have made his points when he got the chance to speak," Megha said. "He should have let her talk when she had the chance to talk."
Ian Hagen, an eighth-grader, said Trump kept speaking over his allotted time, and Ian didn't appreciate his personal approach with Clinton. "When they were handshaking, he put his hand behind Hillary, and that's just really rude."
Sarah Gorman, a sixth-grader and a Clinton supporter, said Trump wasn't focusing on the issues that were on the table and was instead often pointing fingers at his rival. "He was only talking about his business, and he was also blaming Hillary Clinton for a lot of things that were obviously not her fault."
Trump needs to "learn how to talk and be respectful," said Adyna Silverberg, a seventh-grader who said she favors Trump after watching the debate. "Hillary Clinton, she was very nice and respectful, but he just has to be more respectful."
But Trump wasn't the only candidate these sixth-, seventh- and eighth-graders took issue with during what is now the most-watched television debate in US history, with more than 81 million viewers tuning in. Clinton also didn't behave well, some of the students said.