Kids review the presidential debate: Candidates didn't 'play nice'
Kelly Wallace | 9/28/2016, 4 p.m.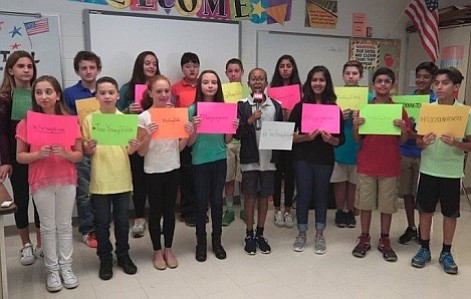 continued — "While Donald Trump was saying his speech and talking about what he feels (are) his issues, she was smiling and laughing," said Aaron Parisi, a sixth-grader who was undecided before the debate but said he now supports Trump.
"She just wasn't respecting his ideas the way she should have been. She was setting a bad example and basically laughing at what he was saying," said Aaron, the school's student council treasurer.
Louis Neri, a seventh-grader and Trump supporter, thought that Clinton was "being a little bit arrogant" and that Trump was the more respectful debater. He also took issue with moderator Lester Holt, anchor of "NBC Nightly News," saying he believed that some of the questioning was "biased," with too much of a focus on Trump and not enough on Clinton.
"They asked him about (his) business and all the bankruptcy and debt, and they should have focused on her email scandal ... and Benghazi," he said, referring to the deaths of four Americans at the consulate in Libya in 2012.
Elijah Dor, a sixth-grader, thought Holt did a fine job but Trump was the one being disrespectful. "I felt like Donald Trump was kind of attacking him when he was trying to ask the questions very nicely. It was just really, really rude," he said.
CNN invited members of the school's student council to do an interview Tuesday morning after the debate. The students, all under 18, may be #tooyoungtovote, but they're not too young to care about the issues. Invites by the school were sent to more than 30 students. Twenty-five volunteered to do the interview, and the first 16 students who signed up were selected.
Ten of the students thought Clinton behaved better during the debate, while seven thought Trump did. Overall, the students expressed real frustration with what they are seeing and hearing from the candidates.
"I would say it's a circus," said seventh-grader Matthew Wei, who would vote for Trump if he weren't #tooyoungtovote. "This is one of the most bizarre campaigns ever. It's all about Hillary Clinton saying something bad about, and making commercials about, Trump. And Donald Trump saying something bad about Hillary."
Adit Terapanthi, a seventh-grader, said the debate was like a baseball game, with the two candidates constantly trying to score against each other. "It was like 'Tom & Jerry' ... fighting over every little thing. Donald Trump kept saying, 'Oh, ISIS formed because of Hillary,' and Hillary kept saying, 'Donald Trump didn't pay his federal taxes'. ... They didn't really propose how they're going stop ISIS or what they're going to do about taxes."
Jade Hieger, a seventh-grader, agreed. "The thing that makes me most frustrated is how they're treating each other like enemies, like they don't even respect each other, and they don't have any tolerance for each other when they're talking," she said. "And the fact that Donald Trump was speaking over Hillary and the fact that (she) was laughing at his ideas was a little frustrating as well."
Looking ahead to the next presidential debate, scheduled for October 9 at Washington University in St. Louis, these middle-schoolers -- and possible future political leaders themselves -- had plenty of advice for the candidates.
To Trump and Clinton, Michael Usatine, an eighth-grader who says he remains undecided, said he hopes to hear more substance in the next debate. "Instead of fighting over every question, maybe they should let the candidates speak and then tell what they want to do but propose a plan on stage."
Julia Demetropoulos, an eighth-grader who says she now supports Trump, said her candidate was "really rude" to Clinton and needs to change that in the next showdown. "I think he should treat her and other women better,' she said. "Definitely let her talk and don't cut people off."
Matthew Colatrella, a sixth-grader and a Trump supporter, agreed. "Maybe ... to be a little ... nicer."