Kunta Kinte Heritage Festival attracts locals and out-of-towners
Andrea Blackstone | 9/30/2016, 6 a.m.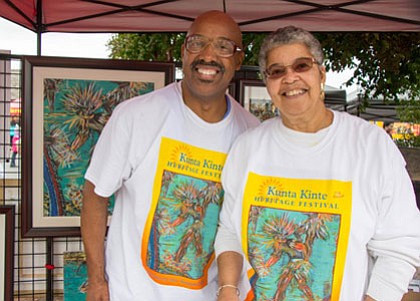 This year's two Detective Shelley White Award recipients were Carlesa R. Finney— a family and community advocate for more than 30 years, and Priscilla Montague – a youth mentor, volunteer and founder of the Annapolis Drum and Bugle Corps. Shelley White, an Annapolis Police Department Detective who died in 2015, volunteered with the
Kunta Kinte Festival for many years and served as head of security.
The festival also included a way to honor individuals who exemplify the virtues highlighted on the Alex Haley monument's Story Wall that is engraved with quotes along the Annapolis City Dock seawall. Spears said that Albert Feldstein received recognition for the virtue of diversity for creating a poster of message buttons about African-American history.
Next year, Spears will serve as the chair of the Kunta Kinte Heritage Festival's Board of Directors. Lee will be chair of the planning committee.
"We do plan to continue the tradition of the festival and have it again next year. We are in the process of rebuilding the Board of Directors, and we can always use more help on the planning committee," Lee said. "With the continued support of the community, we will continue to grow and educate more people about their history."