Woodlawn High School leading the way through STEM
Ruth Young Tyler | 9/30/2016, 9 a.m.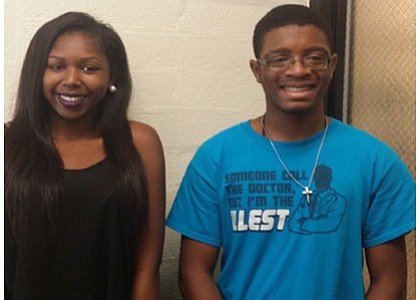 As industries continue to thrive in the areas of STEM (science, technology, engineering, mathematics), schools around the region are actively implementing programs to prepare students for high-growth career fields.
Woodlawn High School seniors, Elijah Dowell and T'Yona Dobbins, members of the Project Lead the Way (PLTW) Engineering Program, are gaining greater insight and problem-solving skills to set them on a trajectory for a steady career and high incomes.
The Project Lead the Way (PLTW) Engineering program at Woodlawn High School introduces students to STEM disciplines, specifically engineering and engineering technology. The program is designed to empower students to step into the role of an engineer and develop critical thinking and problem-solving skills.
"When taking the civil engineering course, we built houses on the computer. We also surveyed the land to ensure the house could be built and the land could hold a sturdy structure," said Dobbins. Dobbins aspires to further her education and study civil engineering after graduating high school.
Dobbins and Dowell were impressed with the quantity and quality of hands-on activities and educational field trips that gave them greater exposure to science and engineering.
While participating in the program, students create, simulate, and test scientific and engineering projects. The students also participate in mentorship programs with engineers, researchers, and corporate affiliates.
The first level course, Introduction to Engineering Design, prepares students to dig deep into the engineering design process, applying math, science, and engineering standards to hands-on projects like designing a new toy or improving an existing product. The second level class, Principles of Engineering, allows students to explore a broad range of engineering topics including mechanisms, strength of structure and materials, and automation, and then they apply what they know to take on challenges like designing a self-powered car.

Students in their junior year take two specialty courses, Digital Electronics and Civil Engineering and Architecture, held exclusively at the high school. Students learn aspects of development and building and site design. Then they apply what they've learned to design a commercial building.

Through digital electronics the students explore the foundations of computing by engaging in circuit design processes to create combinational logic and sequential logic (memory) as electrical engineers. Similar to what is used in the music industry. The capstone course, engineering design and development, is where students identify a real-world challenge. The students then research, design, and test a solution, ultimately presenting their unique solutions to a panel of professional engineers.
According to the Bureau of Labor Statistics, civil engineer jobs are projected to grow to by 8 percent from 2014 to 2024. The need for repairs to roadways, bridges, building and levees will increase as the infractures deteriorates, which explains the importance of STEM education.
An entry-level civil engineering position with a bachelor's degree had a median annual salary of $82,220. That was in May 2015.
In identifying why STEM education is a national priority, the Council of Foreign Relations asserts that 60 percent of US employers are having difficulties finding qualified workers to fill vacancies at their companies.