PULL UP A CHAIR AND JOIN AYESHA CURRY FOR FAMILY AND FOOD IN AYESHA'S HOME KITCHEN
4/1/2017, noon | Updated on 3/28/2017, 10:54 a.m.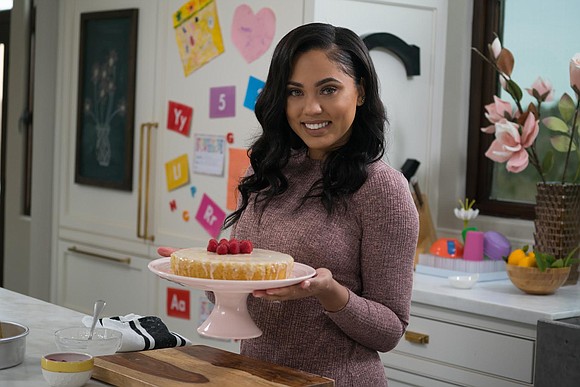 Premieres Sunday, April 30th at 12:30pm ET/PT on Food Network
NEW YORK -March 27, 2017 - Ayesha Curry, cookbook author, social media maven, mother of two and wife to NBA superstar Stephen Curry, returns to Food Network this spring with a new season of all-new episodes in Ayesha's Home Kitchen, premiering Sunday, April 30th at 12:30pm ET/PT. Life can get pretty hectic taking care of two young children and balancing a career and family time, so it is very important to Ayesha that she continue the traditions she started since moving to the west coast - inviting family and friends over to join her in the kitchen as they help cook some of her favorite meals. Join Ayesha through six half-hour episodes as she showcases quick and tasty recipes perfect for any get-together.
"It was clear early on that Ayesha would resonate with Food Network's television and digital audience," said Kathleen Finch, Chief Programming Content and Brand Officer, Scripps Networks Interactive. "From her passion for food and family to how her own loyal following increasingly craved more of what she had to share, we are looking forward to all that's in store for Ayesha's Home Kitchen."
"Being able to enjoy time in the kitchen serving up delectable meals and laughs with family and friends defines many of my happiest moments," said Curry. "In Ayesha's Home Kitchen sharing these special moments, along with tasty, easy recipes that I hope bring delicious joy to others, is a real dream come true."
Discover Ayesha's favorite recipes and learn more about her cooking influences and family at FoodNetwork.com/Ayesha. Join the conversation using #AyeshasHomeKitchen.
Ayesha's Home Kitchen is produced by High Noon Entertainment.
Episodes Include:
Premiering Sunday, April 30th at 12:30pm ET/PT - PREMIERE!
"Taco Night"
It's taco night at the Curry house! Ayesha is spicing up the menu with a creative twist on some taco night favorites, taking a grocery store staple - the rotisserie chicken - and jazzing it up to create a Pulled Chicken Taco. With a simple hack, Ayesha will spice things up with her seasoned taco shells, while also making Cilantro Lime Rice, Horchata Brownies and a Smoky Pineapple Margarita that's sure to get this party started. Ayesha's husband, Stephen Curry, her sister Maria and DIY maven Sabrina Soto, join in on the fun and the fiesta feast.
Premiering Sunday, May 7th at 12:30pm ET/PT
"Comfort Food"
Ayesha is putting a grown-up twist on some childhood favorite foods for game night. First, turning the plain ol' hot dog into a sophisticated Grilled Bratwurst with Brie and a Spiral Apple Slaw. Ayesha then puts a colorful spin on French fries with her Rainbow Fries with a Grainy Mustard Aioli and reinvents a campfire favorite with her S'mores Doughnuts. Ayesha's cousin Devontee, childhood best friend Sheraine Robinson, and big sister Maria, are sure to be impressed once they get a taste of Ayesha's Spiked Chocolate Malted Milkshake that's sure to get the party going.