Filmmaker debuts new movie in Baltimore
Ursula V. Battle | 4/7/2017, 6 a.m. | Updated on 4/6/2017, 2:41 p.m.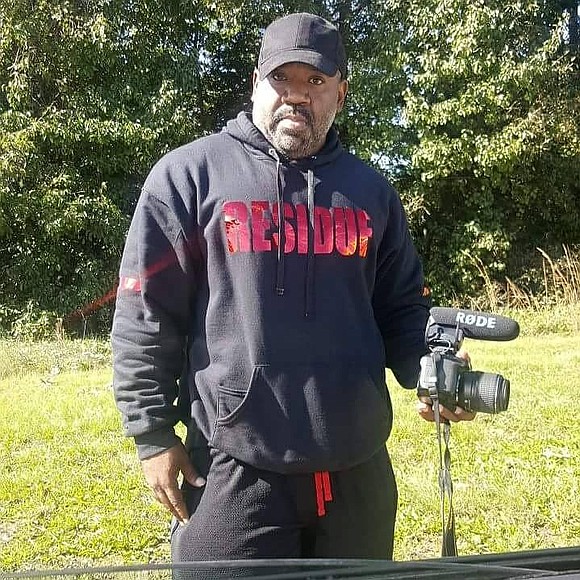 Roosevelt Jackson's life plays like a real-life movie reel. In his mid-20s, his debut film "In It To Win It," was a success. The film earned the young filmmaker high accolades and glowing reviews, and prompted some to refer to him as "The Next Spike Lee."
However, Jackson's life would soon spiral out of control. He battled depression, was homeless, and tried to commit suicide three times.
Jackson was in a battle for his life and he looked as though he was down for the count. But with his dying mother and his newlywed wife in his corner cheering him on, Jackson would make a courageous comeback. He has since written and produced several stage plays and films.
On Thursday, April 6, 2017, his newest film, "Residue," made its Baltimore premiere with a Red Carpet debut at the Charles Theater located at 1711 N. Charles Street. Residue is the compelling story of how police brutality affects the lives of families living in the Baltimore, Washington, D.C., Virginia, and surrounding areas.
"Residue is a story of families who have to put their lives together after a senseless act of police brutality claims the life of a character named Ty Johnson," said Jackson. "The film looks at the other lives that are impacted, including that of his father Clay Johnson. This film focuses on all the cleaning up that has to take place after all the heartache and pain. These families have to rebound and put their lives back together.
"The film does not mention a city or a particular police department. The film just says, 'city police.' I see and hear the news, and use this information to write my own movie scripts. These are real-life situations played by performers," Jackson said.
According to Jackson, who is now 48, Residue was filmed primarily in Baltimore and Washington, while some scenes were shot in Virginia. Jackson said he wrote, produced and edited the film, which is mostly comprised of Baltimore performers.
"This initially started as a short PSA," recalled Jackson. "Now it's nearly a two-hour movie. It took me about two months to write it."
In addition to "In It To Win It" and "Residue," Jackson's movie credits include "Life According to Rasheeda," while his stage play credits include "Through Darkness Came Light," and "If Loving God is Wrong I Don't Want to be Right!"
Jackson reflected on his own life story.
"I took the money that I had made from doing hair shows, and used it to produce In It To Win It," recalled Jackson. "The film was very successful, and I started smelling myself. And just like that, God took everything away. He said, 'you're not ready.' I didn't want to write anymore, I tried to commit suicide three times, I slept in my car, and on people's couches. I lived like that for two years. It was a very dark time in my life. But when my mother got sick, I knew I needed to change some things around."