Baltimore comedienne survives heart attack, urges women to be aware of wellbeing
Ursula V. Battle | 4/14/2017, 6 a.m. | Updated on 4/13/2017, 2:02 p.m.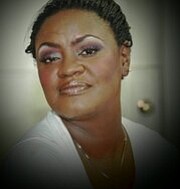 For more than 20 years, Pamela Hill has been making people laugh. The comedienne, whose performance name is "Miss Maybelle," has participated in many comedy shows, fashion shows, plays, and even starred in car insurance commercials. She is also a familiar voice on WOLB's 1010 AM's Larry Young Morning Show, where her comedic opinions and views on life are a source of much laughter. But one December day in 2013 was no laughing matter. The performer literally found herself halfway between life and death.

"I have chronic asthma, and had back-to-back asthma attacks," recalled Hill. "I was taken to Mercy Hospital for the asthma attacks, where they discovered I was having a heart attack. I was then moved to Union Memorial Hospital. Two of my heart valves were blocked and I had to have emergency heart surgery."
The 50-year-old added, "I was told to pull my family together because there was a 50/50 chance I would make it. I told my kids no matter what happened, God was in control and to take care of one another. It all happened so fast. I was then taken back for surgery, where I had to have stents put in my heart."
Hill survived the surgery and she is hopeful that her own personal story will inspire women to do a better job of taking care of themselves.
"Women are so busy taking care of everyone else but [we] don't care of ourselves," said Hill. "We have to do a better job of getting physicals, going to the dentist, having Pap Smears, keeping our blood pressure regulated, exercising, and taking our medications so we can be here.
"My heart attack was so subtle. There was no pain or anything to let me know I was even having a heart attack. I was tired and started to go to sleep that day, but decided to go to the hospital. If I hadn't gone to the hospital, I probably wouldn't be here."
Hill's efforts include the Miss Maybelle's Full-Figured Fashion Show. The sold-out annual event, which she said was sponsored by Carlton Douglass, was recently held at the Forest Park Senior Center located on Liberty Heights Avenue. Hill is donating a portion of the proceeds to the American Heart Association— Maryland, located on Redwood Street in Baltimore.
Hill hosted the event, which also featured full-figured models trained by fashion icon Travis Winkey. Hill's husband Lamont Hill also participated in the event, which also featured entertainment and an awards program.
"This was our tenth year," said Hill. "We want women who are heavy to have positive self-esteem and feel good about themselves."
Hill is also a two-time stroke survivor. During the event, she honored Antoine Johnson, Daphne Hicks, and Paul Harrison with the Miss Maybelle and Company's Courage Award. According to Hill, Hicks is a three-time stroke survivor, Harrison suffered a stroke five months ago, and Hicks helped her through a difficult time in her life.
"I was getting ready for work one day, and was confused and bumping into everything," said Hill, reflecting back on one of her strokes. "When I got to work, my mouth twisted and they rushed me to the emergency room. Following the stroke, I was getting physical therapy, but after my insurance ran out, I could no longer go to physical therapy. Daphne, who is a Zumba instructor, gave me most of my lessons for free. She taught me how to walk a straight line and how to clap again."