Baltimore comedienne survives heart attack, urges women to be aware of wellbeing
Ursula V. Battle | 4/14/2017, 6 a.m. | Updated on 4/13/2017, 2:02 p.m.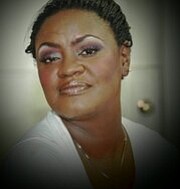 Hill said after her stroke, she had to leave her job of 20 years at the Circuit Court for Baltimore City. She said her mother, the late Vivian Spells, was pivotal in assisting her during her illness.
"I could no longer do the work at the courthouse," said Hill, who is the mother of three children— Antoine 30, Shawn, 25, and Nick, 11, who has cerebral palsy. "My mother really helped me out a lot with my kids."
The Baltimore native and Edmondson High School graduate continues to bring smiles to the faces of her audiences throughout Baltimore and surrounding areas. She says on May 7, a pre-Mother's Day roast will be held in her honor.
"I am still living with the effects of my strokes," said Hill. "I can't walk far distances, and the stroke messed up some of the tissue in my body. Sometimes I get tremors in my hand because my arm is weak. But I keep on pressing and refuse to give up.
"We often take simple things for granted such as walking up the street and coming back. But when you can't do those things any longer, you want to do them again. Now, my outlook on life is that it is so short and so precious. We have to live life to the fullest, and in order to do that, we have to take care of ourselves."