Can a marathon be run in under two hours?
4/18/2017, 6 a.m.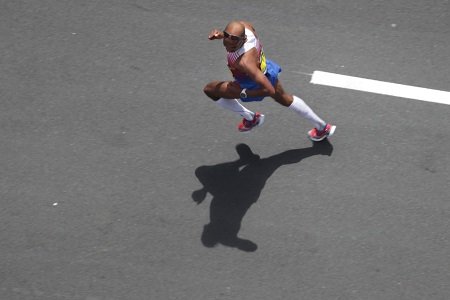 (CNN) — Nearly everyone who starts the Boston Marathon completes it. In 2016, around 97% of the starters finished.
Even for non-qualifying marathons, such as Disney or Tokyo, the average percentage of completion hovers around 90%.
While many of the roughly half million people in the US who show up every year at a marathon start line are well-trained, most are still recreational runners. For them, a marathon is often the first time they have run 26.2 miles, and they suffer the consequences.
They have little idea about pacing, nutrition, hydration or what to do when your glycogen stores suddenly run dry. Yet still, when they hit the proverbial wall of pain and fatigue, nine times out of ten -- they push through.
Additionally, they are more likely to finish if they were closer to 50 years old, rather than 20. It seems marathoners reflect a significant level of mental toughness, and that toughness appears to grow into middle age.
For seasoned marathoners, these statistics may come as no big surprise. Mental toughness or grit is also one of the reasons a few groups of scientists around the world believe they can do something never before achieved in the world of marathon running: break the two hour mark.
What it means to break 2 hours
The fastest time recorded for a marathon is two hours, two minutes, and 57 seconds. It was set by Dennis Kimetto at the Berlin Marathon in 2014. That is an average pace of 4 minutes, 41.5 seconds -- for 26.2 miles. It is at once both insanity, and deeply inspiring.
And many in the running community believe we can go even faster.
To break a 2-hour mark would require a runner to shave nearly 7 seconds off every mile, achieving a per/mile pace just below 4 minutes and 35 seconds. It is incredibly audacious.
Keep in mind, for runners at this elite level, shaving even a fraction of a second every mile is a physical super-feat.
A review of current data shows it took nearly two decades to decrease the world record by 3 minutes. But to do it in one leap has become the obsession of some runners and scientists.
Academic research team Sub2 seeks to break the two hour mark in the next 5 years and big sports brands such as Adidas and Nike are dedicating resources to the effort as well.
In order to investigate more, I traveled to the Nike world headquarters in Beaverton, Oregon. It is a place hyper-focused on human optimization. Most of the buildings on campus are named after elite athletes, such as Tiger Woods, Michael Jordan, Bo Jackson, Pete Sampras, John McEnroe, and of course Steve Prefontaine, the athlete who helped popularize running in the 1970's.
I checked into the Mia Hamm building, home to the Nike Sports Research Lab (NSRL), where several members of the team who are convinced Breaking2, as they call it, is within reach.
The science of shoes and apparel
I spent two days chatting with experts in shoe design and innovation as well as physiologists and trainers. I even tested my own capabilities on an NSRL treadmill while running in a pair of Zoom Vaporfly Elite prototypes, the shoes Nike believes can in fact make a runner faster.