Community Policing in Baltimore: Faith-based leaders join forces with police in prayer, outreach
4/21/2017, 6 a.m.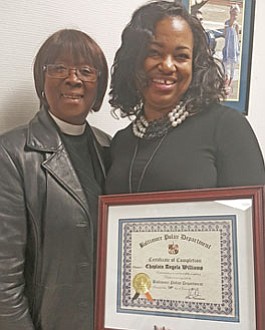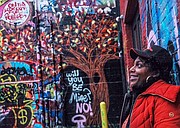 BALTIMORE — This is part one of a three part series.
A preacher's kid, Angel Williams wasn't "in the streets," but having grown up in Baltimore's infamous Park Heights community, she's very familiar with how to move through them without being of them.
For her kids, she said, she wanted better. So when she finally left Baltimore 15 years ago, she vowed never to return. However, war cries from the heart of her hometown soon caught up with her in Texas and called her home.

Williams alludes to Romans 7:23 to contextualize her reason for going back on her word: "Paul said 'the good that I would do, evil is ever so before me.' So, he found himself battling within. I feel like thats where Baltimore is at right now. Baltimore is at war with itself. What's happening right now is coming from within. This is inside stuff, and we can't run away from it; we have to deal with it."
The mother of five has come back simply to give back, and volunteering with the Baltimore City Police Department as a civilian chaplain is her way of dealing with what she left behind.
Her job is to be a bridge between the police and the community. She is currently assigned to man the hospitals in the Western District— St. Agnes and Bon Secours. As an intake coordinator for cancer patients at her day job, she is in familiar company.
The general divide between the community and the police is no secret. Trust left the streets a long time ago, when funds for PAL Centers and Officer Friendly initiatives were cut, recreation centers closed down, and zero tolerance tactics overrode the ethics of community policing.
As the body count for this year's homicides increase exponentially, the writing is on the wall: Real love is cooperation, and divisiveness is death. While politics and statistics have their place, restoring a sense of humanity among us all is of the essence.
"A lot of people have lost respect for officers; they don't realize that the officers go through what the people in the community go through," Williams said about her experience working with the faith-based program of the Baltimore Police Department Community Collaboration Division. In January, she graduated with the Civilian Chaplain Academy's third class.
"You have to be available. You have to always be willing to serve. This is a calling and when you've been called to do it, you become a servant to whomever, and you have to walk in the spirit of humility."
This is the kind of outreach Baltimore City Police Chief Melvin Russell had in mind eight years ago when he cast his vision for a faith-based initiative to curb crime in the Eastern District, where his humble beginnings as a police officer began.
"The goal was to get all of the churches together to meet at the district," said Det. Quintese Green, one of Russell's day oners.
I remember thinking, 'these people are not going to listen to you and you're not going to be able to do it.' A lot of people had their doubts but he did it. Cause he never gave up.