Community Policing in Baltimore: Faith-based leaders join forces with police in prayer, outreach
4/21/2017, 6 a.m.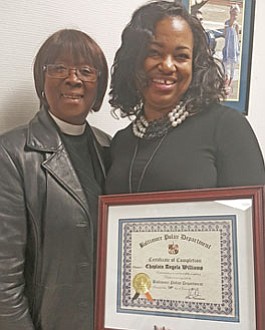 continued — "He had us go and get every phone number, every address of every church, and have them meet him at the district" said Green. "We had about 80 pastors or clergy meet at the Eastern, and he cast his vision. And it was simple. In order for Eastern district to transform, they were going to all have to come out from their congregations and come together."
After a year or two, crime in the district reached an all-time low, Green said. "And everybody wanted to know how he did it. All he did was encourage the faith-based community to do their part."
Russell's charge was well received and with this momentum, the mission of the BPD's traditional chaplaincy has expanded to support the work of police in the community with ride alongs; community outreach; assisting officers and civilians on first-responder calls; and are able to offer their training to intervene between civilians and law enforcement during critical situations to perhaps minimize opportunities for injustice.
"I believe that we as chaplains are bridging the gap in the community and with the officers. We are that advocate to speak on behalf, and maybe say what they officers can't say, said Williams. "We are here to breathe the breath of life back into the city of Baltimore to where people don't look at it and see gloom and doom."
Det. Green encourages every faith-based leader in the city to at least sign up for the training so they can get the police perspective. Whether they get on board with the division's collaborative efforts, join the program or not, they will gain invaluable insight that will equip them to parti-cipate in effecting change in the community.
"Even if they come to the training and decide it's not right for them," she said. "At least they got the training, and that's huge."
Tiffany Christy is an urban educator, youth advocate, and multimedia editor and producer. She enjoys capturing the beauty of her beloved Baltimore in words and pictures. Follow her at on Facebook/tiffany.ginyard and visit her blog, Fly Lyf, at www.flygirlnetwork.org/blog.