Why teen mental health experts are focused on '13 Reasons Why'
4/26/2017, 6 a.m.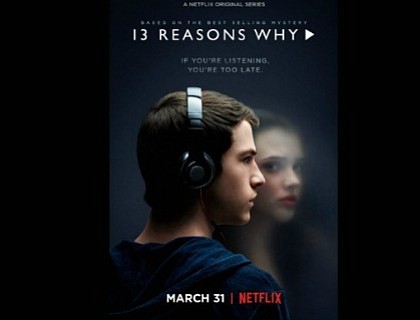 (CNN) — Alexa Curtis, 19, laid her laptop on her dinner table and took a deep breath.
It was a brisk April evening, and Curtis was prepared to spend the night in her Boston apartment watching the new Netflix series "13 Reasons Why."
As the first three episodes of the teen drama unfolded on her computer screen, Curtis' heart began to race.
"13 Reasons Why" is based on best-selling author Jay Asher's 2007 young adult book of the same title. Actress and pop star Selena Gomez co-produced the 13-episode Netflix adaptation.
The series, which premiered March 31, follows the fictional story of a teenage girl named Hannah Baker (Katherine Langford) who leaves behind 13 mysterious audio recordings on cassette tapes after killing herself. She addresses each recording to a person who she says played a role in her tragic decision to end her own life.
"The first thing that popped into my mind when watching it was, 'Wow,' " said Curtis, who founded the nonprofit Media Impact and Navigation for Teens, a program that raises awareness about online bullying.
Curtis said she was bullied in high school and she could have been a real-life Hannah Baker.
"Had I been watching that as the vulnerable, fragile kid that I was when I was 13 or 14, I might have watched that and thought, 'Oh, that's the easy way out. This is going to get me the attention that I need. This is what I have to do,' " said Curtis, who wrote an opinion article in Rolling Stone this month about the series.
"It's not the kind of show that I would say nobody should watch, but I think that every school right now should have an open conversation about it in health class," she said. "Kids should probably even be separately brought aside, as privately as possible, and spoken to about it. Any kids who are known to have depression, to have spoken to counselors or any previous suicide attempts, I think they should be very, very, very talked to in-depth about it."
Some mental health experts say the show could pose health risks for certain young people, such as those who have suicidal thoughts.
Others suggest the show provides a valuable opportunity to discuss suicide risk with young people, as well as teaching them how to identify warning signs of depression or suicidal thoughts among their peers.
Among American young people, those between ages 10 and 24, suicide is the third leading cause of death, according to the US Centers for Disease Control and Prevention.
Each year, about 157,000 people in that age range receive medical care for self-inflicted injuries at emergency departments across the United States, according to the CDC.
Suicide rates among this age group have also been rising in the UK in recent years, according to UK charity Samaritans, reaching more than 15 per 100,000 people aged 10-24 in 2015. In Australia rates were an estimated 50 per 100,000 for the same age group in 2015, according to the Australian government's mental health awareness initiative, Mindframe.