Why teen mental health experts are focused on '13 Reasons Why'
4/26/2017, 6 a.m.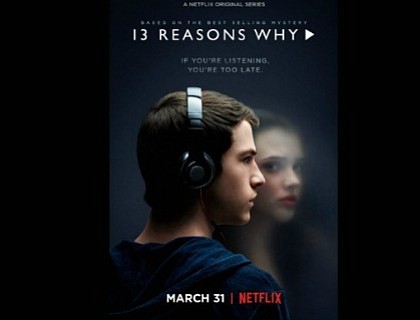 continued — 'Dispel the myth'
"Suicide contagion" describes when exposure to suicide within a family, within a group of friends or through the media may be associated with an increase in suicidal behaviors, according to the US Department of Health and Human Services.
Among 12- to 13-year-olds, being exposed to a classmate's suicide was associated with being five times more likely to have suicidal thoughts, according to a study published in the Canadian Medical Association Journal (PDF) in 2013.
The risk of suicide contagion and copycat behavior is one of mental health experts' leading causes of concern tied to "13 Reasons Why."
"Research shows that exposure to another person's suicide, or to graphic or sensationalized accounts of death, can be one of the many risk factors that youth struggling with mental health conditions cite as a reason they contemplate or attempt suicide," according to a statement about the show released this month by the National Association of School Psychologists.
However, it's unlikely that one show alone could trigger someone to attempt suicide, said Eric Beeson, a licensed professional counselor who serves as an online faculty member at The Family Institute at Northwestern University.
"Research clearly shows that these images have an influence on suicidal behaviors, but how this occurs is far more important to me," he said. "It is very possible that provocative experiences have a desensitizing effect that makes suicidal behaviors more likely."
One of the writers of the "13 Reasons Why" series has defended the decision not to shy away from main character Hannah's suicide and to include a graphic scene of her death.
In an op-ed published in Vanity Fair last week, writer Nic Sheff revealed that he had once tried to take his own life. He brought that experience to his work on episode 6 of the show.
"From the very beginning, I agreed that we should depict the suicide with as much detail and accuracy as possible. I even argued for it -- relating the story of my own suicide attempt to the other writers," he wrote.
In the op-ed, Sheff detailed how a woman once told him about her own suicide attempt: After she washed down a copious amount of pills with wine, what followed were moments of excruciating pain, of violently vomiting blood and blacking out. Then she dialed 911. The thought of her experience caused Sheff to put down some pills he was swallowing in his own suicide attempt, he wrote.
"If that woman had not told me her story, I wouldn't be here now. I would've missed out on all the amazing gifts I have in my life today," Sheff wrote.
"So when it came time to discuss the portrayal of the protagonist's suicide in '13 Reasons Why,' I of course immediately flashed on my own experience. It seemed to me the perfect opportunity to show what an actual suicide really looks like -- to dispel the myth of the quiet drifting off," he wrote. "It overwhelmingly seems to me that the most irresponsible thing we could've done would have been not to show the death at all."