Art installation encourages reflection about Segregation Era, 21st Century Race Relations
Deborah bailey | 4/28/2017, 6 a.m. | Updated on 4/27/2017, 1:46 p.m.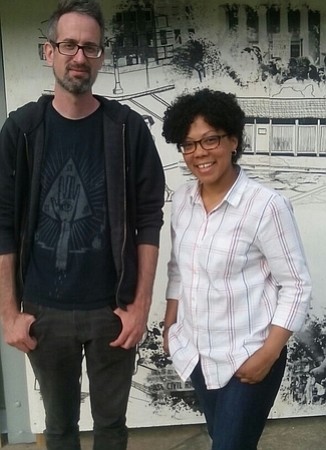 An alternate reality that was once the center of summer fun and recreation for Baltimore's black population, Pool #2, which operated as a segregated pool in the "historically black" section of Druid Hill Park from 1926 to 1956, is temporarily the site of an art installation and exhibit, featuring the work of the city's most imaginative artists.
"Everyday Utopias," an exhibition coordinated by Curator Sheena M. Morrison, brings together ten of the area's contemporary artistic talents to interpret through art how Druid Hill's once segregated Pool #2 and the history and trajectory surrounding that facility represent the "everyday" successes and struggles of civic life.
"From the initial campaign to construct the city's first public pool for black people to the resolute activism that led to its eventual closure, Pool No. 2 reflects the pragmatism of an "everyday utopia" a term coined to define those creative practices that we engage in daily to find new and better ways to improve our lives and the world," said Morrison.
Known as the Colored Pool by local residents in the 1950s, Pool #2 was constructed in response to a 1953 drowning accident involving a young African American boy in the Patapsco River.
"The tragedy revealed the difficult circumstances for many African Americans looking for a place to swim in Baltimore. The boy lived near Clifton Park but swam in a dangerous river due to his exclusion from the park's whites-only pool," according to the Explore Baltimore Heritage website.
Baltimore sound artist and Maryland Institute College of Art graduate, Andrew Keiper created Summer Sonar, a sound installation to bring an awareness of water and its many personal and social meanings.
"The surface of water can figure as the threshold of conscious awareness and in the water below, swims our dreams, aspirations and fantasies," Keiper said."Desegregation filled this pool," Keiper added referring to the ultimate closure and filling of Pool #2, "but did it bury white supremacy?"
After the Patapsco River drowning, the Baltimore NAACP subsequently mounted a successful campaign that closed the pool the same year it was opened. The pool lay dormant until local artist and 2016 MacArthur Genius Fellow Joyce J. Scott won a commission to transform the once "Colored Pool" into a memorial.
"How do we make this area useful and beautiful, and harken back to the pool era?" Joyce said when reflecting on how she would approach the work of memorializing the pool. The result was filling in the pool and creating a lawn. Scott kept the original metal diving board, chair, ladders and boys changing room to pay homage to the pool's original patrons.
"I, Colored," a mural and photographic collage with hand painted flags is the work of artist and photographer, Tiffany Jones. The multi-dimensional collage and flag installation is meant to encourage visitors to recognize that in spite of the hardships of Jim Crow life in the 1950's, African Americans still enjoyed rich, full cultural lives.
"We tend to forget that African Americans continued to live incredible, textured, multi-faceted lives during the Jim Crow era," Jones said. "There was laughter and celebration."
Other artists who are part of the exhibition, include: Billy Colbert, Sutton Demlong, Fluid Movement, Lauren R. Lyde, Antonio McAfee, Edward-Victor Sanchez, and Michael Trueblood.
Until the Everyday Utopias exhibit, Scott's original work stood alone. Through May 7, 2017, Joyce Scott's lawn-filled Pool #2 at Druid Hill Park is alive with the art of Everyday Utopias.