Howard University student uses journalism to give back
Alexa Imani Spencer NNPA/DTU Journalism Fellow | 8/4/2017, 6 a.m.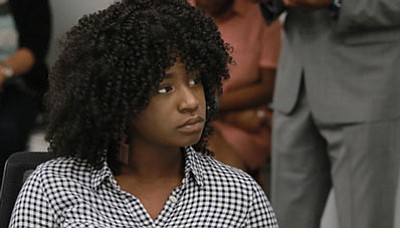 Born on a warm July day during the summer of 1997, Noni Marshall entered the world destined to create, lead, and inspire. Marshall grew up in Nashville, Tennessee. It was there that she stepped into her greatness and accepted her calling as a storyteller.
An only child, Marshall spent much of her days in the company of her parents. She recalls them as supportive with high expectations. Her parents divorced, when she was 12 and despite the split, both remained heavily involved in her life. Together they invested in her interests and continued to push her academically.
"They always expected excellence from me, since pre-K," said Marshall. "I was expected to [earn] all A's in school, which I lived up to until high school, where I got a few B's, but still graduated with a 3.5."
Those high school years were pivotal in Marshall's life. During her sophomore year at an all-girls school, she had an epiphany that redirected her career goals. After years of training in performing arts, she decided that journalism was the route that she wanted to take.
"I began watching Soledad O'Brien and Lisa Ling. I decided that that's the type of journalism that I wanted to do," Marshall said, "I fell in love with profiles and investigative journalism."
With her plans for the future all mapped out, Marshall continued to strive for excellence by becoming a well-respected student on her school's campus.
"I was that person you'd go to if you had a problem with anything," Marshall said, "I was also the liaison between students and staff."
Marshall served as president of her class and in many other campus organizations, including a diversity initiative club. She was also involved on the cheerleading squad, the dance team, and in the theater arts department. Even though she maintained high levels of service and leadership, Marshall was still surprised when she was honored with two high-ranking awards, during her senior year; winning those awards has been her greatest accomplishment to date.
"To me, that was just a testament to the impact that I was able to make within those four years," said Marshall. "I wanted to be one of those people that people looked up to."
Marshall continued to succeed academically, as she entered higher education. Wanting to follow in the legacy of her parents by attending an HBCU, she enrolled at Howard University in the fall of 2015 with her passion for journalism still intact.
In the future, she plans to begin her own daytime television show that highlights stories that are often overlooked.
"I want to showcase [unique individuals] that go against what [society's] stereotypes would say they should be doing," Marshall said.
With the show, Marshall also plans to give back; by incorporating philanthropy and mentorship into the show's format, she hopes to inspire others, just as she once was.
"When I do have my own show, I want to hire people that look like me, give opportunities out, and fund scholarships," Marshall said.