Refugee Olympic Team: Where are they now?
8/8/2017, 11:19 a.m.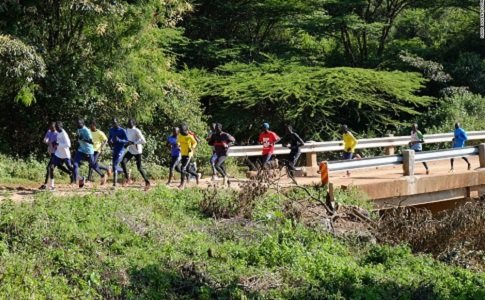 (CNN) — They came, they saw, their stories inspired the world.
Ten athletes — victims of unimaginable hardship, forced to leave their homes in South Sudan, Congo, Ethiopia and Syria — united under a single flag.
IOC President Thomas Bach called them "a symbol of hope" in a time of crisis. The Human Rights Watch claimed their involvement had "reframed the debate."
A year on from Rio 2016, how have the lives of the members of the Olympic Refugee Team changed?
Yiech Pur Biel: South Sudan, 800m
Yiech Pur Biel only remembers crying twice in his life: when he was separated from his mother as a child during the devastating Sudanese civil war and, many years later, when he found out he'd be running the 800m at the 2016 Rio Olympics.
One year on: He might not have qualified from his heat, finishing in 1:54.67, but Pur Biel's life has changed forever.
Just months before the Games began, the 22-year-old was still training barefoot in the vicinity of the Kakuma refugee camp in Kenya.
But he has now traveled the world, attended the first UN Summit for Refugees and Migrants, and met a number of world leaders, including former American President Barack Obama and Pope Francis.
Yet his most cherished moment has been a telephone call from his mother.
"My family never believed I was alive," Pur Biel tells CNN, explaining that someone from his hometown of Nasir had heard about his Rio exploits and took his mother to an aid agency to make the call.
"I was happy to talk to them; [now] I want to meet my mother face-to-face, as well as my brother and sister.
"I have a big refugee family, but I also have my real family which needs my care."
The runner's mother didn't know what the Olympics were, but understood her son had gone "somewhere far away" and would come back safely.
Pur Biel is now training for Tokyo 2020, alongside studying for a diploma in public relations — something he "never thought possible."
He has also met his idol, double Olympic champion David Rudisha, telling the Kenyan he hoped to break his 800m world record.
Yusra Mardini: Syria, Swimming
The tale of Yusra Mardini, Syria's teenage swimmer who won her Olympic 100m butterfly heat just a year after swimming for her life, captivated the world.
Her house in Aleppo was bombed, the motor on the dinghy transporting her from Turkey to Greece stopped working, but she never lost hope.
Together with her sister, Sarah, Mardini pushed the boat for three hours through the Aegan sea toward Greek shores, potentially saving the lives of the 18 other migrants on board.
She might not have made the semifinals in Rio, but insisted "the only thing I wanted was to compete."
One year on: Mardini is fighting new battles, shedding light on the millions displaced around the world and reclaiming the word 'refugee' as a goodwill ambassador for the United Nations Refugee Agency (UNHCR).