This restaurant requires a $293 ticket
Matt Villano, CNN | 8/10/2017, noon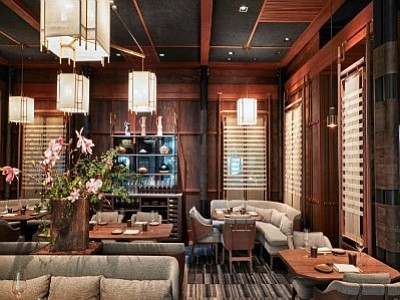 Sweet and creamy green-garlic panna cotta with salty and grainy sea urchin on top. Tender spot prawns complemented by flecks of melon and cucumber that curls like a snake. Fresh oysters so pickled they make you squint and pucker, served with freshly grated wasabi.
These morsels are among the bites that welcome guests to SingleThread, a new restaurant in Sonoma County that gives the all-too-familiar notion of farm-to-table dining an infusion of Eastern philosophy and culture. Within the past six months, the eatery has perfected a service that is high-end but not highfalutin'. Even in a city with a robust restaurant scene, it stands out.
'One chance, one encounter'
Chef Kyle Connaughton features fresh produce and sustainably harvested proteins from around Sonoma County, in the northern part of California. But he and his wife, Katina, go way beyond the traditional definition of seasonality. Never mind winter, spring, summer and fall. They have 72 distinct microseasons and base dishes on which items are ripest at any given moment in time.
The approach evokes an ancient Japanese spin on farming, and the result is an 11-course, ingredient-driven meal that changes every week, an experience that is as much about entertainment and art as it is about food.
"There's a famous saying in Japanese that means, 'One chance, one encounter,' " says Kyle. "That's our philosophy -- every visit is special, and you're never going to have the same experience twice."
MORE: 10 of America's best historic restaurants
Focus on hyper-seasonality
About 70% of the items on SingleThread's daily menus are grown or raised on a 5-acre parcel that backs up onto the Russian River, just outside the city of Healdsburg.
This includes dozens of vegetables ranging from kohlrabi and Japanese carrots to peas and corn, cows for beef, and bees for honey. The farm even yields olives for the restaurant's olive oil, as well as flowers that appear on centerpieces around the dining room.
Katina serves as head farmer, and her team works the land according to the Japanese concept of shun, which takes common notions of seasonality down to a microlevel.
Consider an asparagus, which appears to many to be "in season" in spring. For Katina, however, the peak time for the vegetable, the stretch during which it tastes exactly how an asparagus should taste, is just two or three weeks somewhere in late April and early May.
"Produce grown, harvested and stored responsibly, it's dense in nutrients and tastes undeniably amazing," she says. "We strive to showcase and celebrate the beauty and bounty of Sonoma County at every turn."
MORE: Farm-to-hotel -- 10 resorts that grow their own food
Intimate dining experience
In the 52-seat dining room, amid hand-woven screens that create a sense of intimacy, this philosophy translates into dishes that redefine freshness.
Guests are seated to a canape course that might include farm eggs filled with a savory custard, spinach puree and smoked sabayon; or those pickled oysters with the wasabi. All these starter items are served in tiny dishes spread out across a moss-covered stump.