Girls on the Run Promotes Positive Youth Development
Students are heading back to school and in many cases, parents will be seeking after-school activities that promote positive youth development and increase physical activity.
With over 200,000 girls participating nationwide each year, Girls on the Run is an after-school activity that officials said counts far more than a running program.
"At Girls on the Run, girls are encouraged to run, walk, hop, skip or jump across the finish the line," said Meg Taylor, the development and outreach manager for Girls on the Run. "There's no right or wrong way for these girls to be active, it's all about figuring out the way that works best for each individual."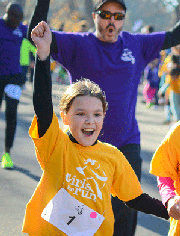 Girls on the Run is a nonprofit dedicated to creating a world where every girl knows and activates her limitless potential and is free to boldly pursue her dreams. It is a physical activity based positive youth development program that is designed to enhance girls' social, psychological and physical skills and behaviors to successfully navigate life experiences.
Established in 1996, the organization began with 13 girls in Charlotte, North Carolina.
Twenty-six girls joined the next year, then 75.
"What started with one school has grown to over 200 councils in all 50 states and the District of Columbia," Taylor said.
Locally, Girls on the Run of the Greater Chesapeake serves more than 1,900 girls each year at sites in Baltimore City, Baltimore County and Anne Arundel County.
Over the 10-week program, girls from grades three to eight develop essential skills to help them navigate their worlds, according to Taylor.
The program culminates with girls' being physically and emotionally prepared to complete a celebratory 5K event, which will be held on Sunday, December 3, 2017 in Druid Hill Park in Baltimore City.
Registration for the Fall 2017 Girls on the Run season opens to a lottery registration beginning on September 6.
A recent study provides evidence that Girls on the Run has been highly effective at helping girls increase their physical activity while teaching critical life skills they can use at home, at school, and in their community.
Officials say 97 percent of girls have reported that participating in Girls on the Run has helped them learn to manage emotions, resolve conflicts, make intentional decisions, or help others.
"Through our intentional curriculum, which is delivered by trained volunteer coaches, girls will participate in a variety of activities and scenarios that prepare them for real-life situations," Taylor said.
"Girls will practice being intentional in their responses to these scenarios, so they are not responding out of raw emotion, but instead with thought-out responses," she said. "Girls also learn that it is okay to feel hurt or upset, but that it is important to learn how to express those feelings in a constructive way."
The response locally has been incredibly positive, Taylor said.
The Greater Chesapeake chapter began in 2005 serving 20 girls in Anne Arundel County.
Recently, the organization expanded into Baltimore and serves over 1,900 girls across more than 70 schools in the region.