Dick Gregory Dies at 84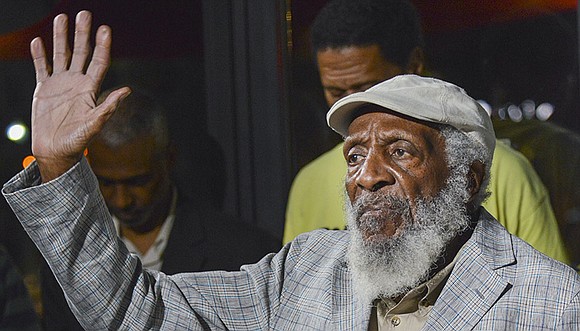 NNPA — Legendary civil rights activist and comedian Dick Gregory died on Saturday. He was 84.
Friends, family and celebrities took to social media to honor the icon and innovator of the black community.
"It is with enormous sadness that the Gregory family confirms that their father, comedic legend and civil rights activist Mr. Dick Gregory departed this earth tonight in Washington, DC," said Christian Gregory, his son, in a statement posted on Facebook. "The family appreciates the outpouring of support and love and respectfully asks for their privacy as they grieve during this very difficult time."
On Facebook, Roland Martin, a journalist and host of NewsOne on TV One said that he had enormous respect for Gregory.
"He was honest, truthful, unflinching, unapologetically Black. He challenged America at every turn. RIP," wrote Martin.
"He was one of the sweetest, smartest, most loving people one could ever know," said Steve Jaffe, Gregory's publicist of 50 years, according to The Hollywood Reporter. Jaffe added, "I just hope that God is ready for some outrageously funny times."
Singer John Legend tweeted that, "Dick Gregory lived an amazing, revolutionary life. A groundbreaker in comedy and a voice for justice. RIP."
Filmmaker Ava DuVernay tweeted that Gregory "taught us and loved us."
Quoting legendary entertainer Richard Pryor, sports writer Myron Medcalf tweeted, "Dick Gregory was the greatest, and he was the first. Somebody had to break down that door."
Dr. Benjamin F. Chavis, Jr. the president and CEO of the National Newspaper Publishers Association, also paid homage to Gregory.
"We salute and honor the living legacy of freedom fighter Dick Gregory. RIP," Chavis wrote on Twitter.
Gregory had been in a Washington, D.C. area hospital battling an undisclosed illness. However, as late as Thursday, family members were said to have been upbeat about his recovery and he even had plans to appear at a show on Saturday in the nation's capital.
Born Richard Claxton "Dick" Gregory in St. Louis, Missouri on Oct. 12, 1932, Gregory became a comedian and civil rights activist whose social satire changed the way Whites perceived African-American comedians, according to his biography.
Dick Gregory entered the national comedy scene in 1961 when Chicago's Playboy Club (as a direct request from publisher Hugh Hefner) booked him as a replacement for white comedian, "Professor" Irwin Corey. Until then Gregory had worked mostly at small clubs with predominantly black audiences (he met his wife, Lillian Smith, at one such club), according to his biography.
"Such clubs paid comedians an average of five dollars per night; thus Gregory also held a day job as a postal employee. His tenure as a replacement for Corey was so successful— at one performance he won over an audience that included southern White convention goers— that the Playboy Club offered him a contract extension from several weeks to three years," Gregory's biography said. "By 1962, Gregory had become a nationally known headline performer, selling out nightclubs, making numerous national television appearances, and recording popular comedy albums."
Gregory's biography continued: "It's important to note that no biography of Gregory would be complete without mentioning that he and his beloved wife, 'Lil,' had ten children, who have become highly respected members of the national community in a variety of fields. They are: Michele, Lynne, Pamela, Paula, Stephanie (a.k.a. Xenobia), Gregory, Christian, Miss, Ayanna and Yohance."