Four million low-income Americans connected to high speed Internet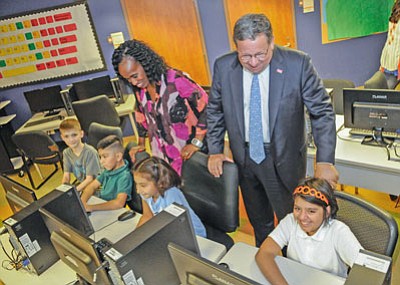 BALTIMORE — In the summer of 2011, Comcast Corporation unveiled the Internet Essentials program for low-income families.

On August 15, 2017, just six years after the start of the program, Comcast Corporation announced the program has now connected more than four million low-income Americans, in one million households, to high-speed Internet service at home. Locally, this includes 27,000 Maryland families, or 108,000 Maryland residents. That is inclusive of more than 8,500 Baltimore families, or 34,000 Baltimore residents.
"When we started this program six years ago, we never imagined four million low-income Americans would benefit from it," said David L. Cohen, Senior Executive Vice President and Chief Diversity Officer of Comcast Corporation. "We also never would have reached this milestone without our many dedicated nonprofit partners, elected officials, educators, employees, and advocates who were all united by the belief that the Internet is essential, not only to compete in the 21st century economy, but also to be connected to loved ones and the world."
"While this milestone is a wonderful moment to celebrate," he added, "It also inspires all of us to keep going to connect even more families to all that the Internet has to offer for education, jobs, healthcare, news, information, and entertainment."
Cohen made the announcements in Miami, Florida with six-time Olympic medalist Jackie Joyner-Kersee, who will serve for the second year as Internet Essentials' national spokesperson. The State of Florida is second to California with the most connected households in the country, having connected more than 120,000 low-income households benefiting nearly 500,000 Floridians. Cohen also introduced Adamari López, host of Telemundo's Un Nuevo Día., who will become the program's first ever national Hispanic spokesperson. The three kicked off a multi-city tour, which will run through October.
Cohen also announced three key Comcast Essentials program enhancements. They are: Plans to increase the program's Internet service speeds; that program participants will receive 40 hours of free out-of-home WiFi access per month to the company's growing network of 18 million Xfinity WiFi hotspots to help family members connect to the Internet on the go and save money on their wireless bills; and that Comcast is also expanding its pilot program for low-income senior citizens from five cities and metropolitan areas to 12.
Comcast Corporation is a global media and technology company with two primary businesses, Comcast Cable and NBCUniversal. Each year, the company has announced Comcast Essentials milestones as well as new enhancements that help reaffirm the company's commitment to bringing the transformative power of the Internet to more low-income Americans.
While Cohen was ecstatic about the company's latest announcement, he also noted that the company's efforts must continue.
"While we are thrilled that Internet Essentials has come this far, there is still much more work to be done," said Cohen. "Far too many families remain on the wrong side of the digital divide. Connecting these families remains our core mission and has become part of our organizational DNA. Our goal remains to ensure that all households, irrespective of their income or the zip code in which they live, can benefit from the life-changing resources and opportunities that having home Internet provides."