Escape rooms: Why people flock to these 'tourist traps'
Starre Vartan, CNN | 8/31/2017, 6 a.m.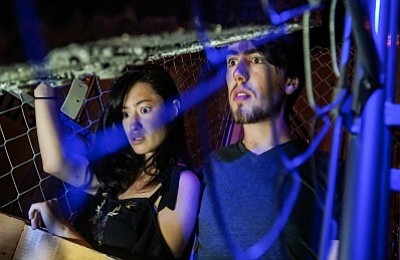 She says that choosing which motif suits the group is part of the fun, especially for new players. Each room is ranked by difficulty and "anything could be a clue to move you forward," she says.
Sydney-based nurse Giulia Moretti visited the "Forensic" game which featured a set of rooms. "The first one was a police station setting, the second was a bunch of old evidence including bones and a skull, and the third was the scene of the most recent crime. It was super creepy," says Moretti, who adds that she and her friends didn't solve that room but still loved the game.
Strike Exitus, 22 The Promenade, Sydney NSW 2000, +61 1300 787 453
BreakOut Escape Game in Singapore
Palo Alto-based Lauren Joyce discovered escape rooms during her studies abroad in Singapore.
A friend organized the night in the "Magician's Revenge" at BreakOut. Even though none of the people in the group had participated in an escape room before, the ambitious grad students chose one of the tougher challenges. (BreakOut has six rooms: Three are easier and three are more complex.)
"Here we were, a group of pretty competitive people, many whose jobs require solving complex problems—yet we couldn't crack the codes. We had nothing on the regular escape room fans/groupies who know more about the types of patterns and clues to look out for," says Joyce. Despite the fact that her group didn't crack the case, she said it was a fun, dynamic night out and she wanted to try another room elsewhere to practice "being a cryptologist for the night."
BreakOut, 31 Kreta Ayer Road, Singapore 088998, +65 6226 2688
Make a Break in Berlin
When Sydneysider Giulia Moretti visited Berlin with her boyfriend Richard Neo, they heard about an escape room that featured a famous local landmark.
"The mission was to get to the other side of the Berlin Wall (they actually had a fake wall put up in the room) and to send a radio message to tear the wall down," says Moretti.
There were other escape rooms to visit in Berlin, but they specifically though visiting one with a local theme would make a great site-specific memory of their trip. "There's always a sense of accomplishment when you crack some sort of code or get through a door," says Moretti, which keeps her going back for more escape room fun when she travels.
Make a Break, Müggelstraße 8, 10247 Berlin, +49 30 31171383
Ninja Escape in Seattle
Seattle's Ninja Escape is, according to John Harlacher, game designer and co-owner of the company, a "gang" of six games, all with one storyline. "It's a connected universe," says Harlacher, who got his start creating haunted houses and theater sets in New York City.
University of Washington grad Kayur Patel, who has completed about a dozen different escape rooms, says he loves the challenging puzzling aspects of these games. But he also really appreciates the great production design that go into some of them, citing Ninja Escape as an example.