Lady boxer proud to represent Baltimore
Timothy Cox | 12/1/2017, 6 a.m.
Even though she admittedly grew up in what she describes as one of Baltimore's roughest parts of town, Destiny Day-Owens remains committed to overcome her early obstacles to become one of America's premiere women boxers. Meanwhile, she proudly represents her city each time she enters the ring.
At age 22, the former student at the legendary Frederick Douglass High School has overcome a series of setbacks as a youngster and is now ready and prepared to join the nation's elite pugilists, specifically from her Golden Gloves prize rankings to a become a notable professional fighter.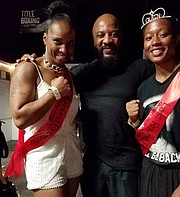 Currently, she trains with renowned boxing coach Mack Allison III, owner of the Time 2 Grind gym in Northeast Baltimore. For Day-Owens, she always figured the fight game was in her blood. Having grown up on what she describes as the "rough side" of West Baltimore's Park Heights neighborhood, Day-Owens describes herself as a tough girl, who has always managed to find herself in arguments and fights.
"Really, I had anger issues!" she admits.
With the help of her now deceased father William "Mr. Bill" Owens, Day-Owens eventually found herself, and realized she was born to fight.
"My father was very patient with me. They (her parents) said they named me because they realized I would have a destiny to achieve. While her mother, Doris Day, is about 20 years her father's junior, Day-Owens says she is the youngest of her parents' children, and now reflects her father's patience and old-school spirit.
"He was 50 when I was born," she said. Mr. Owens died three years ago, in his 70s.
These days, in addition to consistent training at Time 2 Grind gym, Day-Owens takes pride in raising her two daughters, Unique, 6 and Destiny II, 4. The youngest girl is following in her mom's footsteps, with a similar love for the fight game.
According to coach Allison, Day-Owens is a natural-born boxer.
"I'd say her dedication to the game, is what makes her stand out," said Allison whom Day-Owens now considers her surrogate father.
"He pushes me to be my best, and at times he reminds me of my father,' she said. "He treats us all like family."
So, what you may ask would spur a young mother into becoming a boxer?
"It's in my DNA. The fight game found me when I was just six or seven. I can recall placing a mattress up against the wall and acting like I had a heavy bag. Later, it became natural to me when I would fight my brothers like one of the boys. We didn't have a lot of money, but my father helped instill the passion in me."
Day-Owens has already won three Golden Gloves trophies, in just her third year of amateur boxing. She has also won the acclaimed Baltimore 2017 Mayor's Cup and Queen of the Ring. Now, she is primed to turn it up the notch, and hit the professional ranks.