Remembering R.B. Jones: Longtime "Realside" columnist passes away at age 65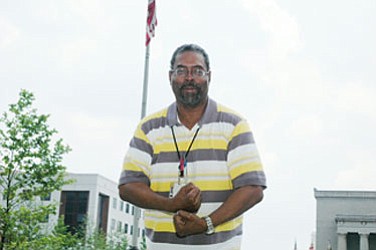 This writer can remember receiving a phone call approximately 15 years ago from columnist, teacher, poet and playwright Ronald Berry Jones, who was known as 'R.B.' Jones. "Ursula, I would like to add your name to a group of people running for public office," Jones said.
A bit surprised at what Jones was telling me, I responded. "Me, run for public office? Why do you think I should run for public office?" Jones then responded, "I believe you would win based on your last name—Battle and I believe you would battle for the people."
While I didn't take him up on his offer to run for public office, I never forgot that phone call or the conversation that followed, so it was with great sadness that I learned of his passing on Sunday, November 26, 2017, after a lengthy illness. According to a family member, Jones was 65.
Jones was the author of the "Realside" column in The Baltimore Times. He also worked for The Baltimore AFRO-American Newspaper, and The Baltimore Press.
"When R.B. was here, people picked up the paper every week," said Baltimore Times Publisher Joy Bramble. "Readers couldn't wait to read his column. R.B. was fearless with his views, wrote what he felt, and stood for what he thought was right. People really respected him, and he had a big following. R.B. worked for us for 15 years, and was a tremendous asset to the Baltimore Times."
She added, "He was the former Editor and a columnist and really helped us to grow the paper. R.B. was also funny, intelligent, and could write on a dime. He will really be missed."
Former Baltimore City Councilman Lawrence Bell reflected on the life of his longtime friend.
"I first met R.B. when I first ran for public office in 1987," said Bell. "I was 25-years-old at the time. He was working at the AFRO, and he really supported and encouraged me. He was a walking encyclopedia when it came to history, particularly Black History and politics. He was deep and he was intelligent. He was also fearless and uncompromising.
"I talked to him about a week and a half or so before he passed away. We could talk for hours about politics, and our love for the black community. He had no fear whatsoever, and that's the way he wrote. We agreed on so many things. He also had a great sense of humor. I had so much respect for him. He was like a big brother to me."
Bell said he hired Jones when he became President of the Baltimore City Council.
"He was my community liaison and did a lot of writing for me," Bell recalled. "He was a phenomenal writer, and was also very bright and quick-witted. R.B. Jones was always concerned about the black community and was always willing to stand up for what he thought was right. He is going to really be missed."
Former Baltimore AFRO-American Newspaper Copy Editor and Baltimore News American Columnist Dr. E. Lee Lassiter also shared fond memories of Jones.