Holiday Meals: Invitation to Sedation, True or False?
Mary Beth Sodus RD/LDN Registered Dietitian & Medical Nutrition Therapist, University of Maryland Medical System Midtown Campus | 12/15/2017, 10:43 a.m.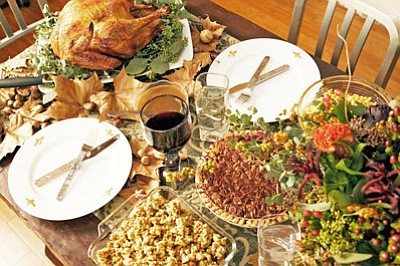 continued — 2. Make an agreement with yourself about portion control. Resist the temptation to go back for seconds. Make smarter choices by selecting foods that are lower in fat, such as white meat over dark, pumpkin pie over pecan pie. You can eat almost anything you like if the portions are small. And remember, leftovers are better the next day, so have one plate, and save room for dessert.
3. Respect your digestive system. Savor each bite of food; chew your food until soft, which will improve both enjoyment and digestion and give you a feeling of satisfaction from your meal.
4. Bring mindfulness to the table. Before your meal, decide what level of fullness you want to achieve by the end of the celebration; satisfied or over-stuffed?

5. Do not arrive hungry. Saving up all your calories for just one meal leads to overeating and in the end produces a slower metabolism.
6. Exercise. It is essential to include daily exercise during the holidays to relieve stress and get your blood pumping and your energy up. Plan a 10-minute walk at lunch or a family hike or bike ride.
7. Remember, hydration before libation. Making sure that your cells have enough water will make a marked difference in how you feel and think during and after your holiday enjoyment.
Most importantly, create holiday celebrations that are an opportunity to connect with family and friends. Your celebrations can be free of the sedation that fat, alcohol and overeating create. Discover the true meaning of the holidays— a time to create moments of joy and feelings of kinship and connection.