Twelve-year-old spreads holiday cheer, celebrates moving adoption story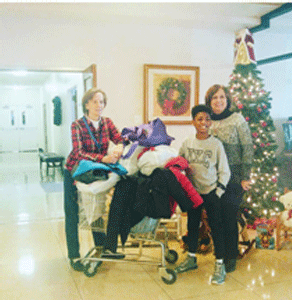 Miguel crafted a plan to help St. Ann's through selling his books. Yolanda added that St. Ann's was ecstatic about Miguel's idea to give back to the organization. They were happy and proud of how far he has come.
"When he wrote his first book, the first things he said is he wanted to give a portion of [the] proceeds to St. Ann's. I never said anything about giving back. That is something that just came right out of his mouth," Yolanda said. "I guess he kind of got that from me (giving back to causes and organizations), because I'm always giving to people."
Yolanda and Miguel can be spotted sporting ugly sweaters, while enjoying Christmas fun with family and celebrating the time that they now have to treasure each holiday season together. Yolanda says she always saw something different in Miguel and she is glad that he ended up in her care. The nurturing mother would encourage other like-minded individuals to adopt children.
"If I had more room, I would adopt more kids," Yolanda said with joyous laughter. There are a lot of kids out there who need a loving home, and a lot of them are good kids. They might come from rough backgrounds but a lot of them just really need love."
To learn more about Miguel's books, visit https://www.facebook.com/theadventuresoffireman.