When students notice racial bias
2/15/2017, 10:15 p.m.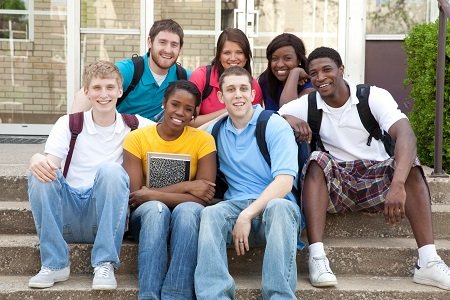 (CNN) — Children rarely forget the moment when a teacher might inadvertently display a racial bias.
Sara Sidner, CNN's Los Angeles-based national and international correspondent, remembers sitting in class as a child while her teacher stood and starting taking roll, marking down the race of each student in the room.
"He was trying to figure out whether I was black or white, and he looked at me, and he said, 'You know what; you're a smart kid; I'm going to check white,' " said Sidner, whose mother is a white British woman and whose father is African-American.
"It definitely had an impact on me," she said. "It made me want to fight back and say, 'I can be black and smart. Those are not separate entities. Those are not different things.' "
It turns out that when black and Latino middle school students notice racial bias at school, they are more likely to lose trust in their teachers and other authority figures, according to a study published in the journal Child Development this week.
The study also showed how establishing trust in their teachers can have life-long consequences for middle school students, even making a significant difference in their likelihood of attending college, said Geoffrey Cohen, a professor at the Stanford Graduate School of Education and a co-author of the study.
"There's this kind of hidden construct of trust that teachers and schools are influencing all the time and maybe not knowing it, and they have these far-off, far-flung consequences, like college enrollment," Cohen said.
"A lot of the things that happen to us during our teenage years end up sticking with us. A disproportionate number of our memories, for instance, come from our teenage years. If you suffer a depressive episode in your teen years, you're more likely to suffer one later on in adulthood," he said. "This developmental stage is important."
Trust linked to success in school
The study involved 277 middle school students in Connecticut who were surveyed twice yearly about their perceptions of school from sixth to eighth grade, and then were tracked to indicate whether they enrolled in a four-year college after high school. About half of the students were white, and about half were black. Their teachers were white.
The researchers assessed each student's trust in school by including statements in the survey such as "I am treated fairly by teachers and other adults at my school" or "students in my racial group are treated fairly by teachers and other adults." The students could select whether they agreed or disagreed with each statement.
The survey results showed that while the trust students had in their teachers declined from sixth to eighth grade overall, that trust plunged faster for black students and had a more significant association with their likelihood of attending college.
Among black students, when their trust in school declined, their rate of college enrollment was about 43%, but when their trust increased, it was about 64%, said David Yeager, a faculty research associate at the University of Texas at Austin's Population Research Center and a co-author of the study. So, there was a difference of 21 percentage points.