Surprise! Social media can help, not hurt, your college prospects
2/16/2017, 6 a.m.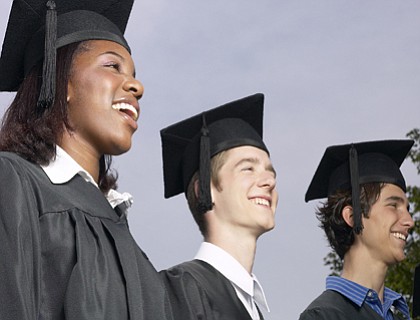 (CNN) — By now, the idea that some college admissions officers might check an applicant's social media accounts shouldn't sound too far-fetched.
With the explosion of Facebook, Twitter, Instagram, Snapchat and all the others, there have been plenty of stories about how a student's social media could hurt their chances of getting into the school of their choice -- enough accounts to worry teenagers that what they post could come back to haunt them at college time.
But what teens -- and their parents -- might not be aware of is how often college admissions officers say social media positively impacts a prospective student's application, as opposed to reducing their chances of admission.
Thirty-five percent of the 365 college admissions officers who participated in a telephone survey by the educational services company Kaplan Test Prep said they check social media during the admissions process. That number is down from 40% last year but dramatically up from 10% in 2008, when Kaplan started asking the question about social media as part of its annual survey.
Of those who said they look at a student's social media networks, a larger number said the review benefited the applicant: Forty-seven percent said what they found had a positive impact on prospective students versus 42% who said what they discovered had a negative impact.
One example, according to Yariv Alpher, executive director of research for Kaplan Test Prep, is a student who took to Twitter to describe facilitating a panel on LGBTQ rights. It was not something the student had mentioned on her application, he said.
"There are a lot of positives here," Alpher said. "It shows diversity, it shows initiative, it shows leadership, and it stood out positively to an admissions officer."
Colleges today, he said, are very mindful of who they admit because they think of the incoming class as a community. "Getting that better idea of who the entering class is is pretty important to them," he said.
There's no question that grades, test scores, recommendations and activities, the traditional factors, are overwhelmingly going to impact a student's admission, said Alpher. But when admissions officers are looking for something more to get a sense of a student, social media can provide some additional clues.
"This, I think, is what we're also hearing between the lines is the need to get a slightly more nuanced picture of an applicant and that social media can actually be very helpful with that because it's unstructured," he said. "There's a degree of being unscripted" that stands out to admissions officers.
A 'virtual first impression'
Alan Katzman is founder and chief executive officer of Social Assurity, which provides social media education to students for college and career readiness.
He and his colleagues encourage students to create profiles on LinkedIn, a network traditionally used by working professionals, to help an admissions officer get a better sense of who they are and what skills they bring to the table.
"We kind of encourage them to focus along the lines of teamwork, time management (and) problem-solving," he said. "We want them to get self-reflective and authentic and not see LinkedIn as a résumé, but see it as really a portfolio of who they are as a person."