Bad heart? Time to hit the gym
2/25/2017, 2:43 p.m.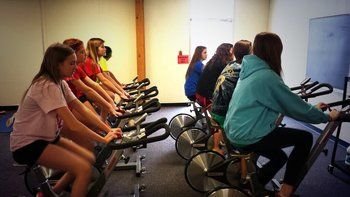 continued — "They try to get you up and moving around as soon as possible," said Murphy.
A comeback workout
In recent years, doctors have continued to push the limits of what they thought cardiac patients could do, opting for high-intensity interval training over more moderate exercise, said Ray Squires, program director of cardiac health and rehabilitation at Mayo Clinic.
During high-intensity interval training, or HIIT, people push themselves for brief intervals -- from 30 seconds to a few minutes -- followed by a longer periods of lower-intensity exercise.
In 2009, Mayo Clinic began recommending HIIT to people who had been diagnosed with heart attack or heart failure.
"I don't know if there was anybody else doing it in the United States" at the time, Squires said.
At Mayo, Squires and his team only initiate HIIT once their patients can do 20 minutes of moderate exercise, which may include brisk walking or even mowing the lawn.
High-intensity training has many different "flavors," Squires said, which can depend on the age of the patient, their fitness level, the nature of their heart problem and other medical conditions, like arthritis, that might make certain exercises more difficult. There is no one way to do HIIT, he said.
Patients are often scared to push their hearts soon after a heart attack, Squires said, but most trust their doctors enough to try. Among the several thousand patients who have gone through Mayo's 36-week program, "we have never seen a single event during HIIT," he said.
Patients are more at risk for a physical injury than another heart attack, he added.
In one study, researchers in the Netherlands recorded only two fatal cardiac arrests over 46,000 hours of supervised high-intensity exercise. These cases were so few that they were unable to find a difference between that and moderate exercise; the authors concluded that the benefits of HIIT outweighed the risks.
Some studies suggest that high-intensity exercise might actually be better for cardiac patients than moderate-intensity exercise, nearly doubling their cardiorespiratory fitness according to one analysis.
"HIIT is not new," said Squires. "It's been used by athletes probably since the beginning of time."
The first studies on HIIT in cardiac patients occurred in the late '70s, but they were largely ignored, said Squires, even though they demonstrated "dramatic improvements" in many of these patients.
But the trend caught on among rehab centers and exercise enthusiasts alike. The American College of Sports Medicine listed HIIT as the No. 3 fitness trend for 2017. Gymgoers are increasingly looking to short, intense workouts as a way to pack the benefits of exercise into a shorter session.
This contrasts with expert recommendations that people get 30 minutes of moderate exercise five times a week.
"Some people just don't have the time," said Kim. "Some people just want to push themselves harder."
But the science is still emerging, said Kim. For patients with an injured heart, it can be crucial to discuss their goals and fears with a cardiologist and personalize their exercise plan, he said.