HBCU Round-up: SWAC Women's Basketball Recaps: Feb. 27
Phinesse Demps | 2/28/2017, 4:30 p.m. | Updated on 2/28/2017, 2:22 p.m.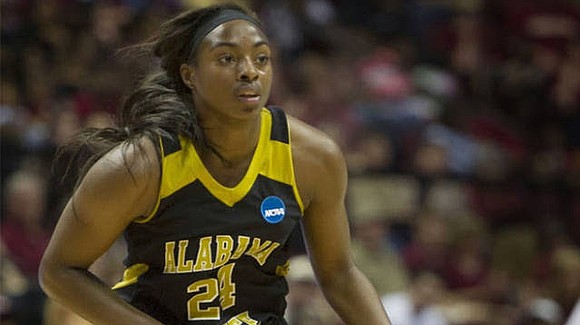 Jackson State 80, Arkansas-Pine Bluff 56
PINE BLUFF, Ark. - Derica Wiggins led the Jackson State to its second straight victory by beating the Arkansas-Pine Bluff Lady Lions 80-56 in Southwestern Athletic Conference action Monday night at the H.O. Clemmons Arena.
Wiggins came off the bench to lead all scorers with 26 points on an efficient 9-19 shooting from the field. She also went 7-8 from the free throw line to go along with recording four steals. Kierra Adams posted a double-double as she finished with 20 points and 13 rebounds. She went 8-13 from the field.
JSU never trailed in the first half. By the six minute mark the Lady Tigers led 13-5 and increased its lead to 22-12 by the end of the first quarter. The Lady Tigers 37-17 by the 4:19 mark in the second quarter, and JSU was able to cruise the rest of the way for the victory., keeping their slim postseason hopes alive as current 8-seed Mississippi Valley lost to Grambling earlier.
JSU (10-16, 4-12) held a 41-19 halftime advantage. Adams and Wiggins combined to score 25 first half points, going a combined 10-16 from the field. Adams also had nine first half rebounds.
Niya Head led UAPB (12-16, 9-8) with 13 points.
Courtesy: Jackson State Sports Information
Grambling State 82, Mississippi Valley State 51
ITTA BENA, Miss. - Shakyla Hill notched another double-double as Grambling State downed Mississippi Valley State 82-51 to inch closer to clinching the SWAC regular season championship.
Hill scored 11 points and grabbed 11 boards as Grambling State (15-12, 13-3 SWAC) pulled away on the strength of a dominant second half of play. Up 31-26 at the half, the Lady Tigers outscored MVSU (9-19, 6-11 SWAC) 51- 25 in the second half, including a 10-2 run to open the third quarter. GSU led by double-digits the rest of the way, pushing its lead to as many as 34 down the stretch.
Hill also dished out four assists and nabbed four steals. Jazmine Boyd and Jazmine Torian each scored 12 points for Grambling. Ashley Beals posted a double-double for MVSU with 13 points and 10 rebounds, and Kristy Parker added 12 points.
Texas Southern 53, Alabama A&M 39
HUNTSVILLE, Ala. - Kaitlyn Palmer led a balanced scoring attack as Texas Southern bested Alabama A&M 53-39 Monday night and clinched a top-4 seed in the SWAC Tournament.
Palmer led all players with 19 points on 8-10 shooting (3-3 from three-point range), as Texas Southern (18-9, 12-4 SWAC) used a hot start to propel itself past Alabama A&M (2-23, 0-16 SWAC). The Lady Tigers were led by Palmer, who scored 14 in the first half as AAMU struggled from the field, shooting 8-of-30.
Ebony Johnson made a lay-up for AAMU early in the third to cut it to six, but that was as close as AAMU got, as TSU increased its advantage by as many as 16 at one point.
Joyce Kennerson scored 11 for TSU, and Shamiya Broks and Artravia Ford each scored 10. Jameica Cobb led AAMU with 12 points.