Hall of Famer Porcher Had to Tackle Grades First
1/1/2017, noon | Updated on 12/29/2016, 3:19 p.m.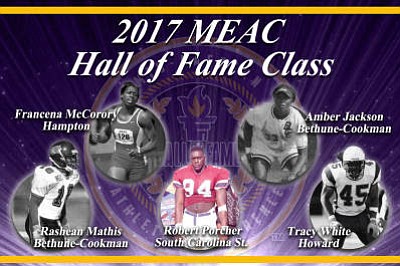 Former South Carolina State University defensive end Robert Porcher's only objective when he went off to college was to get out of his parents' house "because they had too many rules.''
One of their strictest rules was that if his grades weren't up to par he couldn't play football, and they weren't up to par for most of Porcher's high school career. That meant Porcher only played one year of high school football.
"The second semester of my junior year I realized they weren't playing,'' Porcher said. "After I realized they were serious, I buckled down.''
The tough love that Robert Porcher Jr. and Dr. Marilyn M. Porcher showed the oldest of their three children was the foundation for a stellar career that has earned Porcher induction into the 2017 Mid-Eastern Athletic Conference (MEAC) Hall of Fame. He will be enshrined during an awards brunch on March 9 at the Marriott Waterside Hotel in Norfolk, Va.
The 2017 Hall of Fame class, which also includes former Bethune-Cookman softball standout Amber Jackson; Rashean Mathis, a three-time All-MEAC performer in football at Bethune-Cookmnan; Francena McCorory, a three-time NCAA champion in track at Hampton, and Tracy White, a football All-American at Howard, will also be recognized before the 6 p.m. men's basketball game, during the 2017 MEAC Basketball Tournament on March 9, at the Norfolk Scope Arena.
"My whole career I always gave thanks to my parents,'' Porcher said. "They were the first in their families to go to college and graduate. I was blessed to have parents who came to all my games. I always wanted to make my family proud.''
Porcher did made his parents proud with his play during his two seasons at South Carolina State, after transferring from Tennessee State. As a senior in 1991, he was voted MEAC Defensive Player of the Year, the NFL Draft Report named him its 1991 NCAA Division I-AA (now FCS) Defensive Player of the Year, and the Detroit Lions selected him in the first round of the 1992 NFL Draft, making him the first South Carolina State player ever chosen in the first round. He retired as the Lions' career sack leader after a 13-year career.
Porcher's hall of fame career began with zero fanfare because of his poor high school academic record. Only Tennessee State and South Carolina State offered him a scholarship. Porcher was set to sign with South Carolina State, which is about an hour drive from his hometown of Mount Pleasant, S.C. However, his father insisted that he visit Tennessee State.
When Porcher saw the Tigers' history of producing NFL defensive linemen – Claude Humphrey, Richard Dent, Ed "Too Tall'' Jones and Joe "Turkey'' Jones among them – Porcher said "I felt I had to go there.'' However, he was academically ineligible to play his first season.
Porcher became the starting left defensive end in the third game of his second season at Tennessee State and played well. But the Tigers made a coaching change at the end of the season, firing Bill Thomas and hiring Joe Gilliam Sr. Porcher decided it was a good time for him to transfer to South Carolina State, his first choice originally, so he could be closer to home.