9 of the best new cruise ships launching in 2017
1/3/2017, 8:59 a.m.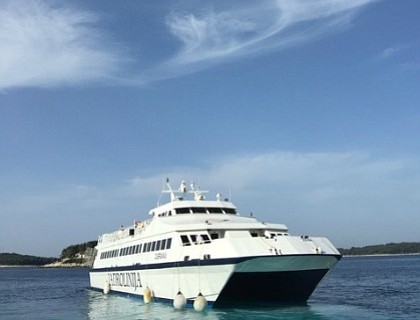 (CNN) — Do you long for the open sea, the wind in your face and the adventure that awaits in exotic ports of call?
Do your whims include gourmet cuisine, duty-free shopping, high-tech experiences, a go-cart track or water park and a bedroom far more luxurious than the one you sleep in at home?
The cruise industry has your lust for luxury travel uppermost in its mind.
In 2017, many of the major cruise lines, and an ambitious fleet of smaller ones, will launch new ships, each one touting new features, new ports, moves toward sustainability and cultural partnerships -- all in the interest of giving passengers a soul-stirring travel experience far removed from the workaday worries of daily life.
These new vessels are scheduled to slide into service in the year ahead, so passengers can hit the high seas in style.
Seabourn Encore
Exotic ports of call are the hallmark of luxury cruise line Seabourn. Pioneers of the small-ship, ocean-going experience, the company recently launched the Seabourn Encore, the fourth in its fleet.
Designed to feel like a luxury yacht, the Encore embodies the finer things in life -- from the ship's crafted and curving lines down to the custom carpet and materials.
Launched in Athens, the Encore's first voyage occurred in December 2016, departing from Dubai on its way to Singapore, before making its way around the Java and Coral seas, the Barrier Reef and Queensland coast and New Zealand, before heading back to Dubai for excursions around various Mediterranean ports throughout 2017.
The ship was born at the hands of master designer Adam D. Tihany, who saw to it that the vessel will carry 600 guests in 300 elegant suites with mahogany and nautical touches, each with a private veranda and stylish marble baths.
Three-star Michelin chef Thomas Keller heads up culinary offerings in the Grill, and guests can dine in the restaurant Sushi as a culinary alternative.
Encore features a casino, pool and whirlpool, plus a water sports marina offering complimentary use of kayaks, pedal boats and windsurfers.
Guests can take advantage of the Retreat, a top-deck covered expanse with 15 cabanas available for rent. It also offers a centrally located hot tub as well as a bar, a spa cabana, lounge chairs and food and beverage service.
Seabourn is also a proud partner of UNESCO to promote sustainable tourism at World Heritage sites.
The Encore gets its official christening at a ceremony in Singapore on January 7, 2017, featuring international recording artist Sarah Brightman, who will officially name the ship during the celebration. The vessel will then depart on its true inaugural voyage, the 10-day Gems of the Java Sea cruise, bound for Indonesia.
Viking Sky and Viking Sun
Destination is everything for the Viking cruise line, and its newest additions to the fleet, the 10-deck Viking Sky and Viking Sun, fully deliver.
Set to launch in February 2017 and November 2017, respectively, the 930-passenger luxury liners join sister ships, the Star and Sea, in putting a distinct emphasis on longer days and more overnighters in key ports, eschewing other standard cruise offerings like casinos and floor shows.