The CBC celebrates history with 49 members in the 115th Congress
Freddie | 1/9/2017, 6 a.m.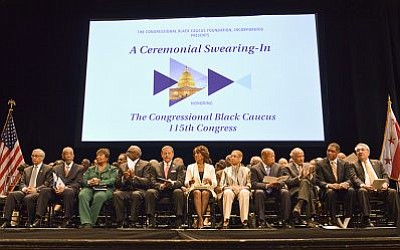 continued — During his remarks at the ceremonial swearing-in event, Richmond said that CBC members represent 78 million Americans, 24 percent of the population and 17 million Blacks, representing 41 percent of the African American population in this country.
"There are many Americans, especially Black Americans, who can't understand how we got hear today, coming off eight years of hope, pride and inspiration," said Richmond. "They are fearful of the current state of division, hate and pettiness.
Richmond continued: "Many of our young people are frustrated with the fact that they seem to be fighting the same causes that Dr. King and Reverend Jackson and John Lewis and many others galvanized the country behind during the Civil Rights Movement; and that's jobs justice and common humanity."
The Louisiana congressman noted that while others have thrown up their hands, hung their heads, paralyzed by frustration, CBC members have remained focused and driven.
Richmond acknowledged that members like Shirley Chisholm work on poverty and expanding opportunities for women in the labor force and children in the classroom, Charlie Rangel on economic inequality and John Conyers on criminal justice reform.
Richmond said that the CBC members are committed to do their part, to provide leadership, engage the people across this country and fight shoulder to shoulder to ensure that the arc, but they cannot do it alone.
"We need the fire, passion and talent of young people to use the tools and resources of today to capture the nation and to give life to our movement," said Richmond, adding that it was young women and young men who were on the frontlines of the fight for freedom during the Civil Rights Movement of the 1960s.
Richmond said that fighting injustice will also require the wisdom, clarity and foresight of our elders, because, "if we do not learn from our past, our future will be more of the same."
The new CBC chair said that during 115th Congressional session, CBC members will continue to confront those who seek to divide the country and that they will be clear about their demands, on behalf of Black people. He added that CBC members will also venture outside of Washington to engage everyday people where they live, work and worship.
"We will heed the many lessons of our leaders that came before, but we will innovate and evolve to tackle the challenges of today," said Richmond. "We will be deliberate in our thoughts and actions and we will engage on our own terms."
Richmond continued: "We have the strength and the courage of our ancestors that survived the Middle Passage, who survived slavery and segregation and Jim Crow; and in that spirit we won't give in, we won't give up and we won't fall back."