HBCU SWAC: Indoor Track and Field Recaps: Jan. 6-8
Phinesse Demps | 1/9/2017, 8 p.m. | Updated on 1/9/2017, 1:59 p.m.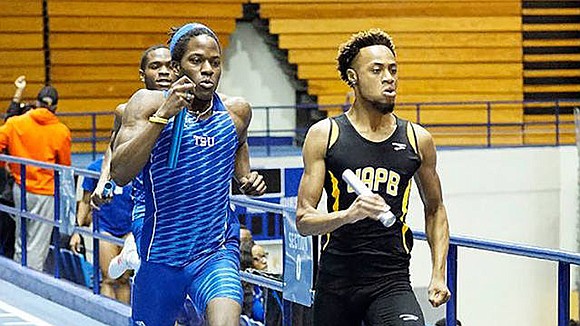 LSU Purple Tiger Meet (LSU; Jan. 6)
Alcorn State
Southern
Texas Southern (Women Only)
RESULTS
BATON ROUGE, La. - Alcorn State freshman Anterious Brown won the 400m dash in his first collegiate meet, and Texas Southern's Alexis Gray claimed the women's 200m dash (24.94) during the LSU Purple Tiger meet this past weekend.
Brown clocked in at 51.14. Teammate Devaunte Richardson recorded a top-five finish with a time of 51.94.
The Lady Braves' distance medley relay team -- freshmen Shaquanda Hill and Adajah Irving, sophomore Angelia Jacobs and junior Dynasty Williams -- raced in at 15:06.57 to finish only behind LSU's "A" squad. Hill and Jacobs also notched a pair of top-10 finishes in the women's 600m. Hill clocked in at 1:40.82, while Jacobs was one spot behind at 1:41.44. .
Texas Southern's Breana Dockery(25.08) was second behind Gray in the women's 200m.
For Southern, Derrick Garner's 22.85-second time in the 200m dash was good for fourth place. Lady Jaguar Camryn Hawkins finished 10th in the women's 200m dash (26.20), and Vashti Hannah's 17-08 mark gave her sixth place overall.
BIll Easton Classic (University of Kansas; Jan. 6)
Texas Southern (men only)
Prairie View A&M
RESULTS
LAWRENCE, Kan. - Texas Southern and Prairie View A&M posted solid performances during Kansas' Bill Easton Classic.
TSU's Mykele Young-Sanders (50.35) was third in the men's 400m dash, and teammate Harvey Kendall finished second in the high jump with a leap of 2.04m. PVAMU's Brandon Kirby notched a second-place finish in the 600-yard run with a time of 1:15.19.
Aaron Austin posted a sixth-place result in the men's mile run (4:31.06), and Logan Williams was third in the 60m hurdles with a mark of 8.16.
On the women's side, Folami Williams finished in the top four with the time of 7.89 (fourth), while in the 400 meter dash, the Lady Panthers had four top ten performers as they finished 4-7. Takara Coleman was fourth with a time of 59.19, and Husniyyah Rogers was close behind with the time of 59.40, JayRielle Joseph finished in sixth place with the time of 1:02.26 and Stephanie Mathis rounded up the team with a 1:03.45 finish.
In the women's 800m, Noelia Rodriguez finished in sixth place with a time of 2:28.
Orange and Purple Indoor (Clemson; Jan. 7)
Alabama A&M
Alabama State
RESULTS
CLEMSON, S.C. - Alabama State's Josh Davis (6.76) finished third in the 60m dash, and Alabama A&M's Joi Ballard (57.19) was sixth in the women's 400m dash during the Clemson Orange and Purple Indoor meet.
Tatianna Etienne (1:13.11) was second in the women's 500m run for the Lady Hornets. Also for ASU's women, the distance medley relay team -- Brandee Ebert, Arion Span, Latisha Locker, Hayley Spears -- was third with a time of 13.06.73.
AAMU's Charrie Dennard had a particularly solid meet, finishing third in the women's triple jump (12.35m) and sixth in the long jump (5.78m).